Why This Wednesday Beats All The Other Wednesdays
There's a theory going round that nothing good happens on a Wednesday; well, nothing other than mid-week rage and the Great British Bake Off. Sometimes simultaneously. But this Wednesday is different. Because today is the day that eCloud Vault, our new drag and drop storage, has arrived. Oh yes everyone – this Wednesday is the one.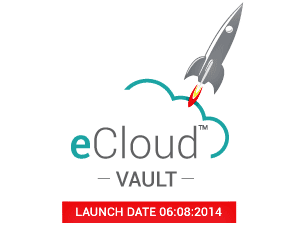 As of today we've added UK-based S3-compatible storage to our arsenal. To some, that may not sound particularly exciting (and if you don't think that something that makes your life easier is exciting, then you'd be right). But otherwise, here's why it most definitely is!
For starters, it's crazy-simple to use: in the simplest terms, you can basically just drag and drop your files in. Saved. Boom. Next: it offers petabytes of storage. Not megabytes, not gigabytes, petabytes. So big it doesn't even sound like a real word. Three: it means we're looking after your data (in the UK so you don't get messed around by international data protection issues) which gives you more capacity to deal with all the other day to day life business that you have to do. These are three reasons out of many. There are so many reasons, but I'm sure by now you're dying to discover the rest for yourself. Follow me into the tech vault (see what I did there) for a quick overview of the nitty gritty…
eCloud Vault's petabytes of SGI storage offer almost unlimited cloud space and follow the standard cost-effective cloud 'pay for what you use' model. It's secure because it has built-in redundancy and N+1 (so basically additional resources to pick up the slack in case anything goes wrong) and has all sorts of lovely features like file sharing, content storage, applications, backup and disaster recovery too. Ultimately though, eCloud Vault allows you to free up your hardware for critical applications and data.
As business owners have been finding out recently (often at their peril), where their hosting is – and who controls it – can be a massive factor on how safe their data is from sticky government fingers. eCloud Vault maximises the potential of their technology whilst also providing peace of mind that their data won't suddenly be yanked overseas.
Put simply, eCloud Vault is a great new tool that will make your business and your life easier, and that makes this Wednesday – and every other day – sound like a resounding success to me.
To find out more about how eCloud Vault can make your life easier, call us on 0208 045 4945, visit our website or contact your account manager.