The Gartner Guys: Data Security In The Cloud
We've been really lucky to talk to technology research and advisory firm Gartner about data security, and one of our lovely comms girls, Steph is going to be doing a series of blogs on key points from the calls! In this first one we've got a few fantastic hints and tips for keeping data safe in the cloud, as it turns out there's more to it than meets the eye!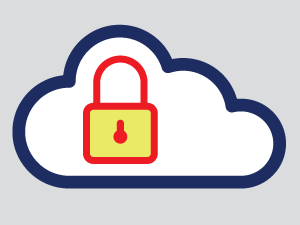 Here it is. It's the big one. The expert analysts at Gartner have finally come along to talk to us about the subject that's placed a bee in pretty much everybody's bonnet recently: the subject of data security in the cloud.
According to analyst Jay Heiser, Gartner took a survey at a data centre conference last year, and found that the number one thing slowing cloud adoption is concerns about security and privacy. The survey gave a number of options, but security and privacy dwarfed every other answer, dominating 55% of the vote.
Breaches are happening all over the place at the moment – to both household names and one-man bands – so it's no surprise that security is a big concern. However, according to Jay, when security issues go down in the cloud, it's rarely the solution itself that allows the breach to happen.
"We're not seeing the cloud service providers themselves suffering systemic failures that expose data belonging to multiple customers simultaneously," said Jay, "What we're seeing are the customers' mistakes causing security failures.
"On infrastructure [as-a-service] the customers are doing poor programming practice. They're making vulnerable applications – especially web-based ones – and putting them online.
"In software-as-a-service, most of the failures are around user management; most of the security incidents are due to account [and password] loss."
And what about issues relating to privacy? Since Edward Snowden's revelations about government surveillance in 2013, keeping your private data private is becoming an elusive art. Some businesses are particularly deterred from using US-based hosting companies, for fear that their files are going to be rifled through without their permission. But Heiser reckons that this isn't an entirely new phenomenon:
"There's always been concern about US government surveillance. That did exist before Snowden, and it's uncertain to the degree to which Snowden increased that or merely maintained it. In many ways Snowden just confirmed what everybody believed."
Thanks to this rather daunting realisation, apparently a lot of businesses are upping their game where security and privacy are concerned. Making informed choices about cloud service providers is one thing, but there are also processes which organisations can start for themselves.
"Encryption is significant," says Jay. "There are practical and implementation difficulties that make it unsuitable for every situation, but when encryption can be applied it's highly effective against a variety of security failures – including unanticipated ones. I expect that there will be a growing use of it in all forms of cloud computing."
There was a concession added here though: "There's always been talk about security 'in depth'," said Jay, "But most attempts to do security in depth have actually been superficial – if you put multiple deadbolts on your front door that does nothing to prevent the burglar from coming through the back door, or through a window."
That's why, arguably, cloud service providers offer better security than businesses can organise for themselves. With the benefits of economies of scale, they can cover those back doors and windows without incurring debilitating costs. Capex and opex stay low for their clients, who get to enjoy superior, enterprise-level physical and technical security at a fraction of the usual price.
"I think that over time cloud will win people around," Jay mused. "It's demonstrating itself as being more reliable than what many organisations can do."
If that's what the experts think, it seems that you're on the right track if you're ahead in the cloud.
To find out more about our security give us a call on 0800 045 4945 or ask your account manager about your options!