The X-Men Of Child Safety Online
Move over X-Men, there's a new supergroup in town, and it's patrolling the mean streets of the internet to make it a safer place for kids! A group of technology firms has joined forces to promote secure online activity among youngsters with the launch of a new social network for children, and UKFast is proud to get involved!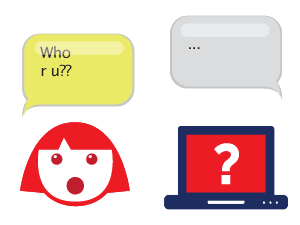 We're joining social media management agency Tempero and child safety experts KidsOKOnline (KOKO) to support child-friendly social site gyggl in the hope of creating a bully-free, bad-language-free zone for kids who want to have a little explore of the internet in safety.
Social media sites are getting pulled up for shoddy security and privacy vulnerabilities all the time, especially when it comes to young people. gyggl was designed to be a creative, fun, and safe place for children who want to get together; it encourages them to create and share their photos and videos, play games, watch educational material, enter competitions and chat, while under the watchful eye of 24/7 moderators.
gyggl is taking a last stand for its users through its partnerships with Tempero – the world's largest full-service social media management agency – and KOKO (Kids OK Online) which has, for 23 years served over 2,000,000 young people and adults in 42 countries with online projects – all in complete safety.
The site is moderated seven days a week and uses profanity filters, experienced moderators and the latest MySafeTXT technology to detect any unusual behaviour, 'net nasties or unwelcome visitors. Beady-eyed members can also help patrol by reporting anything they're not happy with, which an experienced moderator will review quickly, efficiently and fairly. There's a small subscription fee (£2 per month) which allows gyggl to add yet another layer of security; a "grownups" account ensures that concerned parents/guardians can keep an eye on things. The cost of ten Freddos is arguably a small price to pay for the added peace of mind.
Co-founder Richard Bell said: "Our aim is for gyggl to be the most inspiring place for kids on the web – a place that is fun; where they can display their talents, and share and learn with like-minded people.
"We want this brand to feel totally theirs, and whether they're learning about science, showing off their kick-ups or meeting new friends, it will be encompassed in a walled garden, which is a safer, totally protected environment for them to play.
"While we hope young people have the utmost fun on gyggl, we're keen to help set new standards of online safety for them. Needless to say, our work with UKFast, Tempero and KOKO and those firms' vast experience means we have the best people in the industry supporting us through our growth."
Dominic Sparkes, CEO and founder of Tempero, said: "We are approached to manage child focused projects on a weekly basis, but few meet the criteria we set for ensuring the audience is safe from harm.  With gyggl however, it was obvious from the very first meeting they were setting out to raise the bar in terms of child safety.  We are proud to be part of the team."
gyggl's users' registrations have to be verified by parents, a guardian or school teacher and the site carries various safeguarding technologies including profanity filters and report buttons. The extra levels of security create a bullying and bad language-free zone, so that kids can enjoy the internet – and parents can sleep a little better at night! So, if you want fears of children's safety to be left firmly in the days of (future) past, then take a look and get involved!
 At UKFast we make the security of your hosting solution a priority too. If you have any questions, take a look at our security services or give us a call on 0208 045 4945.