Life Of Pi
Although it's still fairly young, the Raspberry Pi team has just launched its third gen board with more bells and whistles than ever before. Why should you care? Read on, and find out why you want a slice of this Pi!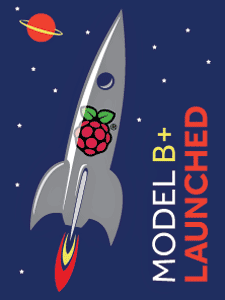 For a start, it's the shiny new version of the original Model B, but with lots of lovely improvements based on customer feedback. The new 'Model B+' board is smaller than its predecessor, and includes USB ports for a keyboard and mouse, an Ethernet port, a micro-SD card slot, and an HDMI port for connecting to a monitor or a TV – but it still only costs around £20. As it's using less power, battery projects should be easier, and improved audio output quality means more possibilities for cameras, microphones, and other add-on hardware too.
The basic idea of the mini-computer is to get more people interested in tech, particularly kids. Since its launch in 2012 lil' Pi has flown off the shelves, selling nearly 3million units. It's no bigger than a credit card but packs a punch; you plug it into a computer monitor or TV and it can be used in a whole loada different ways, running on a variant of the Linux operating system.
B+ is meant to be the "final evolution of the Raspberry Pi" according to the team, but you can still get the Model B board, which will continue to be produced "as long as there's demand for it".
Learning to use the Pi is one of many ways to ensure you have the skills that will be increasingly in demand in the future, and now that Pi is going global, it's a great way of creating opportunities in the developing world. One group that's already doing this is charity Urban Shift, which is running a project to bring ten complete Pi kits to the Khaya Centre in Joburg. UKFast saw the opportunity to be part of the fantastic movement to spread the love of Pi, and sponsored the equipment. In July the charity will help set up a Raspberry Pi suite in the centre and spend time training up volunteers and children so they can then teach others.
A little closer to home we ran a Raspberry Pi day with Ashton and Mersey school, to teach the kids about programming with R-Pi. On the day they learnt to use the Pi in a few different contexts, like turning lights on and off with their computers, or creating their own mods for Minecraft, and building their own online apps and interacting with them through the R-Pi.
Aaron Saxton, our director of training and education, explained that the day came from a desire to inspire the next generation: "Everything we're doing here is working towards filling that skills gap… we want them to be inspired from today's activities and go home with their own Raspberry Pis and start to invent the new innovative, creative product."
If you want to find out more about the tech we use for our solutions, give us a call on 0208 045 4945 or contact your account manager.