MY WEEK AT UKFAST – Saoirse
At UKFast we love getting the local community involved in our company, and want to inspire others – especially kids – in all things tech! Last week we had Saoirse, who was on her work experience placement from a local school, come and visit the office. Here's what she said about her time here: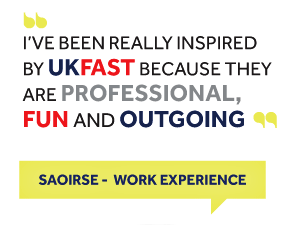 I've come to UKFast for one week of work experience, and I've found it really fun and interesting so far.
All the staff have been friendly and welcoming, and tried to make sure I was comfortable at all times. I've learnt a lot about how UKFast helps their clients, and that they try to help as much as possible – they try their best to make the client happy. Shadowing the workers allowed me to get an insider's view on how accommodating UKFast is. For example, when they get a call they tried really hard to help in the best way they can and understand the problem.
I think that UKFast is a really exceptional company in the web hosting business and they have excellent customer service. The fact that this business hosts websites for big companies like the NHS seems amazing to me. It proves to me that they are reliable, as the NHS is a very big service and they have a massive amount of records.
I've been really inspired by UKFast because they are professional, fun and outgoing.
If you're interested in coming to do work experience with us drop us a line on education@ukfast.co.uk, or if you want to apply for our apprenticeship scheme keep an eye on our website for up and coming opportunities.