Tech On Tour
Whether you're off to relax on a sunny beach or to rave at a muddy festival, summer is the time for being on the move. But if you're used to having the world at your fingertips, leaving your tech behind can be like Rose letting go of Jack at the end of Titanic. Fear not! Your tech can party with you, and we've put together a few tips, tricks and tech that can make being on the move a lot easier.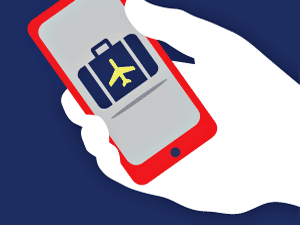 First off, don't even think about going away without international plug adaptors. Do you want your camera to run out of battery half way up Macchu Picchu? Do you? One tip is that if you're planning on buying a voltage converter you may not actually need one. Lots of them will say what they can actually handle and you might be covered; for example, in the US they have 120 volts running at 60 Hz, whereas the UK's got 230v at50Hz but many adaptors will cover around 110-240v – 50/60Hz. You're already sorted.
Storage, storage and more storage. You've lugged your camera and its international adaptor half way round the world, and then have to delete half because you have nowhere to keep them. If you pre-plan, storage can be cheap and practically bottomless, and some versions are pretty nifty too e.g. some Swiss army knives come with a USB stick, which is all kinds of cool.
Invest in a travel strip of plugs. If your hotel only has one plug outlet and you have to charge your laptop, phone, e-reader and camera for the next day, then you're in big trouble! Shop around for lightweight ones, or a USB battery pack (if you use one of these make sure the mAh charge is compatible with the device… and obviously that the device has a USB connector). Even across brands the devices can vary wildly in battery mAh so check before you buy!
There are all sorts of solar chargers and fancy travel battery packs kicking about for charging on the go or if you're so out of the way that plug sockets are a distant memory, but bear in mind your schedule – for example, a solar charger is only really helpful if you're out and about with it somewhere sunny for most of the day!
Stay connected and hunt down some WiFi. There are loads of places that will let you connect to their precious precious WiFi, but usually at a price (and even then the connection is often dodge), but there are some portable WiFi base stations out there that will let you easily set up your own WiFi in an airport. If you do find other ways to get free WiFi be careful if you're not on a secure network or if you're er using someone's WiFi without their permission some places (depending on what you're doing) could take legal action! The WeFi app helps you find WiFi anywhere.
As I lament the death of the paperback, I can also admit that most people will now want to take an e-reader of some kind on holiday. There are waterproof readers starting to surface, but you can get a waterproof cover for cheap now, so that's pretty handy.
Get 'Appy. There's an app for that (and almost anything else), so whether it's to help you  organise travel or discover new places when you're away make sure you've had a hunt for the app you're looking for before you go. TripAdvisor is a great all-purposer, taxi apps like Uber are expanding around the world, and your bank's app is a handy one too. If you want to be super organised, Worldmate brings everything together, including your outlook inbox if you can't bear to leave work behind.
Lots of people worry about taking their gadgets and tech abroad, but it's often fine as long as you give a nod to physical safety. You can get portable notebook locks and decent covers; both will protect you against other people's badness and your own.
What tech tips do you have for travelling abroad?
If you have any queries about where we locate our tech and your solutions, give us a call on 0208 045 4945 or contact your account manager.