Patching Some Core Problems
Keeping your devices patched can mean the difference between smooth sailing and sinking beneath security waters like a leaky barge. Microsoft does it monthly, Android on the regular, and on Monday Apple released a whole new batch of OS, web browser and Apple TV firmware updates; they were all shiny and – possibly most importantly – security-conscious. If you've taken a bite from the Apple then make sure you're aware of which updates are available and where you can get them.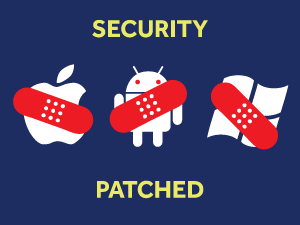 Updating is a hassle – why do I need to do it?
As we've said before, it's important to keep your software up to date. This is partly because there might be some fun new things available, but also because there are constantly security fixes being issued for bugs you may not even realise you have.
Techie bit: this particular upgrade is the latest release of OS X Mavericks, version 10.9.4 and smacks down 19 vulnerabilities across a spectrum of OS subsystems, including graphics and Thunderbolt drivers, and the dock. Safari web browser is invited to the party too with version 7.0.5, which is also available as a standalone update – as is an update for Safari 6.1.5.
The updates do lots of cool things, including:
Decreasing startup time from sleep
Fixing an issue that stopped Macs connecting with known Wi-Fi networks
Resolving another issue where the Apple logo wasn't appearing onscreen properly during startup
Sorting some issues in the Apple TV platform, which includes an impressive (read: worrying) 35 that were inside Apple TV 6.2
Security stuff
The updates include security fixes for the WebKit rendering engine, but one in particular makes this stand out. As a jammy little extra they've tacked on a fix for Activation Lock. The feature – introduced last year – was intended to prevent thieves being able to use stolen phones, and did seem to have an impact on iPhone crime. But a flaw meant that devices weren't checking all their bits and bobs properly, so hackers could partially get past the lock, leaving stolen phones vulnerable again.
The iOS 7.1.2 update also sorts out another problem that could leave your complete contact lists wide open through Siri, although hackers physically need to have the phone to do this. They solved the problem by adding a passcode check before you're able to open the list through Siri.
And, as if all of that wasn't enough, it also patches a bug that was causing some data transfer issues with third-party accessories, and fixes a Mail bug that was stopping e-mail attachments from being properly encrypted. Woo!
How to get them
To get your hands on these fab fixes you can mostly work your usual magic through Apple's usual upgrade channels. If you're in need of a refresher: connect your device to their computer and update through iTunes or using the Over-The-Air software update method, which is in Settings > General > Software Update.
If you've got any security queries, check out our security solutions or contact your account manager for more information!