How Social Media Can Help You Hire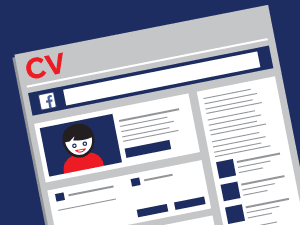 Proving that Facebook is useful for more than just stalking and showing off, Hard Rock café recently hired an entire pool of new employees through the social media site. And, as social media becomes more prolific, it can be a fantastic way to create a culture for your business. But there are definitely a few things you should take note of before diving into that particular pool.
Hard Rock Café recently hired a completely new set of staff – 120 in total – for its new restaurant in Florence, and it was all done through Facebook. The chain managed to source everyone from busboys to managers in less than 30 days – and looks like that's where employers are headed. Josh Bersin, principal of Bersin by Deloitte said: "Resumes are not obsolete, but the concept of them has changed tremendously". Social media is now like an e-calling card, and it has a whooole lotta information on it.
There are lots of advantages to hiring on social media: it's cheap, the information is readily available, and it shows the candidate already has a certain amount of social media savviness, which is an asset in almost any role nowadays. It also makes it easier to find people who have an active interest in the subject you're hiring; you can see if they've tweeted about it, liked your page on Facebook, or discussed it on any Linkedin forums.
On the flip side, a lot of companies will eliminate people because of their social media presence before even meeting them, which is also a bit restrictive. However, considering that almost any job opening generates an insane number of applications nowadays, businesses see it as a quick way of weeding out unsuitable candidates; many explain the move by saying that they can tell if someone's going to be a good fit with their company culture.
If you decide to hire someone based on their social media, make sure they have current activity and – particularly if you're in a field that could be damaged by public embarrassment, say, politics – check that they're not going to be a bit of a loose cannon on the sharing front. Be wary of confusing personal and private lives too much though, and discounting someone based on their behaviour outside of work could mean missing out on someone great.
Hard Rock Café is quite an extreme example, and they had outside help from Work4, a social media-based hiring system. Work4 explains the benefits of hiring on social media:
Reach. You can access so many people through social media nowadays that you have an almost infinite hiring pool at your fingertips. You can also target potential candidates in specific areas of interest, saving a lot of time.
It shows off your brand, which is helpful outside of just the recruitment process.
You can use targeted ads, which is a service that Work4 provides. CEO and founder Stéphane Le Viet says: "If you're recruiting for java developers, it will only target people with computer science degrees, who live in San Francisco, so only those people will see the jobs. We give recruiters the controls to target in whatever way they want, and it's so much more effective than the big job boards where everyone can see everything."
Networking. It's not what you know, it's who you know, and there are services (like Work4) that will use your connections. When you post a new job, Work4 will notify your current employees if they have friends with the right profile. Le Viet explains: "Our biggest idea, is we want to make referrals with social media and Facebook in particular. Referrals should be extremely easy. Your friends are already there. If there are jobs at your company that fit your friend's profile, we'll let an employee know." Twitter and similar platforms are also an easy way to reach out through friends of friends – or just strangers! – and meet people in the industry and with similar interests, building connections for the future.
What tips do you have for hiring someone over social media?
We're not using Hard Rock Cafe's tactics, so if you're interested in working for UKFast, you can apply for a job on our website.