HAVE YOU HERD ABOUT THE NEW FESTIVAL WIFI?
Mo(oo)ve over 3G – this year's festival WiFi is a completely new animal! We may not be getting sunshine this Glasto but we will have the capacity to send our pictures into the world, fast (the next best thing, some might say). That's right, 4G WiFi is coming to Glastonbury – and er, it's coming from the cows.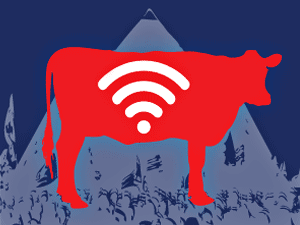 Whilst it may sound like I've taken a leave of absence from sanity, it's actually true, as fibreglass cows from artist Hank Kruger will be providing 4G on Worthy Farm this week. The cows are called Dolly, Daisy and Molly, and are powered by a bespoke 4G network, hooking festivallers up with 'net hotspots across the 1,200-acre site; it's made available by EE, Glasto's tech partner for this year.
And that's not the only fancy tech set to enhance Mudfest '14; festival goers will also have the option of contactless payment on site, via over 100 card readers in 25 main bars, as well as 'cash on tap' facilities for EE customers, which will let them pay for up to 20 things with a mobile phone. If you're worried about getting to use the fabled 4G because the battery of every phone decides to immediately die as soon as it crosses a festival threshold, fret not, there will be power bars to keep your phones charged.
For anyone not familiar with 4G (some of us grew up in the countryside yo'), it's short for 'fourth generation', and is the latest in mobile telecommunications tech, keeping our devices connected at speed. Supposedly. Spencer McHugh, director of brand at EE, said: "Staying connected has become an essential part of any festival-goer's experience and we are thrilled to be back supporting Glastonbury Festival, helping to ensure those on site have the best possible experience."
Arguably the real benefit is for the festival itself, as it gets more on-the-ground and social media coverage this way. Whether it actually benefits festival goers though is another matter. True, it's great that they can stay connected, but if there was ever a time to leave social media behind surely this is it? Having said that, if it's anything like the 'free WiFi' provided in many public areas, it'll probably just end up taunting you with a homepage that the signal is too weak to carry past. We shall see, if and when pictures of mud-splattered hippies start appearing on Facebook.
If you're keen to get your tech on at the festival this year, the official Glastonbury 2014 app shows the latest news, set times, live streams of the BBC coverage.
We may not have 4G cows, but if you have any questions about how we're keeping you connected, contact your account manager or give us a call on 0208 045 4945.