Prepare To Get Emojional
Emoji may have most of the basic emotions and situations covered (for example, I can recreate Les Mis entirely with them) but apparently that's still just not enough emoji. If you've been having problems making your feelings clear with the current options available you're in luck, because another 250 are about to be released! Unicode is rolling out a load more of the lil symbols, and if you want to know more about the people providing us with the pictoral means of expressing ourselves, read on.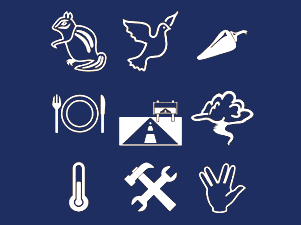 The emojistory (which unfortunately is not actually written in emoji, sorry to disappoint), all began in Japan. The word 'emoji' comes from the Japanese word for 'picture', 'writing' and 'character', and they were originally provided as a fun addition for users by mobile networks. Unicode then kicked them bigtime when they introduced their version, after pressure from developers, in Oct 2010.
If you're not familiar with Unicode's work, they're pretty powerful guys – and not just because they have the power of the emoji. It's Unicode's job to provide a unique number for every computer character and letter. It's no small task, and they unified the hundreds of encoding systems that were already there, and often conflicted with each other. Unicode decides on the emoji that we use through a 'long formal process'; the company keeps the ins-and-outs pretty close to its chest but says that each symbol must be in 'widespread use'. It then draws up the final list, but what we see is down to the individual companies' interpretation, so the emoji may look different depending on who you're with.
The new emoji include a hand with a raised middle finger, which is getting a fair amount of publicity and could spark a few text fights! There are a few tech ones thrown in there too, like a 'no piracy' emoji (not sure if that's internet or high seas). In March the creators were also criticised about the lack of diversity, so it'll be interesting to see whether this latest roll out addresses that. One of the best things about emoji is that they transcend language barriers, so it's a shame that in the past they've been reppin' a relatively small demographic.
Unicode has been super busy, as it's not just new emoji being released! In total, Unicode 7.0 introduces 2,834 characters, including twenty-three new scripts and many new symbols. And, if you're an emojifan, Emojipedia has said: "Support for these new Emoji characters will now be reliant on software updates to include fonts that support Unicode 7.0 from Apple, Google and Microsoft."
What do you think – are emoji just for kids or a useful way of communicating with a wider audience?
If you have any questions about the people behind your solution give us a call on 0208 045 4945 or contact your account manager.