London's Tech Week Tentacles
While we love the North (and it's been getting some great press recently for startups), sometimes we can concede that our fair capital has its merits too; and this week it's doing us proud as it hosts its inaugural tech week! Mayor Boris Johnson and ex-New York City mayor Michael Bloomberg got the party started yesterday, and Boris used the term 'tentacles', which just made it that much better.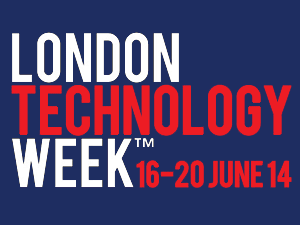 East London is hosting its first ever London Tech Week, and it's reckoned that 30,000 people will attend 200 talks and workshops over the five-day fiesta. Speakers have already included some bigwigs like Michael Moritz, the investor who backed Google, Yahoo!, Paypal and YouTube, followed by Joanna Shields, a former executive at Bebo and Facebook. The talks cover everything from big data to how to promote your app 'on a shoestring', so there will be useful stuff whether you're a tech company looking for tips or just an enthusiast.
The focus is on how technology will shape the future of the city; and while the capital isn't the only place in the country pioneering awesome tech (*cough* the North *cough*), undoubtedly London's growth as a tech hub can only benefit the rest of the country. For example, the promotional bods London & Partners predict the sector will grow by 5.1 per cent a year until 2024, adding £12bn to the economy and creating 46,000 new jobs.
Boris has been getting suitably excited too, throwing around analogies like nobody's business: "Tech Week is a superb opportunity to hail the success of London's tech sector, which despite only being in adolescence already makes a tremendous contribution to our economy and is outperforming our rivals around the globe… The tentacles of our digital army now spread to every corner of the capital and far beyond." (Including the Google homepage, apparently.) So you heard it here Londoners; we have a digital, tentacly army. Take that San Francisco!
It turns out that my sub-par smack talk may not be far off the mark either. Research by South Mountain Economics and Bloomberg Philanthropies found that the tech sector in London and the South East of England is growing faster than in California (they may have the sun, but we have superior growth!); with more employees in the financial tech sector than our US counterparts. Bloomberg added: "Ten years ago, no one thought of New York or London as a competitor to Silicon Valley – but today, more and more tech companies are looking to our cities as places to launch and grow, because they offer such diversity, creative talent, and high quality of life."
So, the party is in London between right now and Friday. Go down and check it out, follow @LDNTechWeek for the latest and greatest, and if you want to get in on the action next year then there's no time like the present – YOLO!
Heard of any ace tech events going on outside of London? Let the tech community know in the comments section!