UKFast Campus is a Great Place to Be!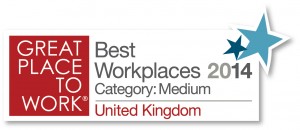 Since UKFast was born, we've done our best to make sure that our team loves coming to work and that Monday blues are a thing of the past. You might think our Vegas and Verbier reward trips are a bit nuts, or that having a gym, auditorium and games-loft in the office is bonkers; but this year, that extra effort has earned us a spot in the Great Workplaces Hall of Fame.
We've been named as a Laureate by the Great Place to Work Institute, having featured in its Best Workplaces list for the past five years in row. This year we ranked 12th out of the UK's medium-sized workplaces.
Our CEO Lawrence has said many a time that these awards are one of his proudest achievements and that they help on our mission to make Manchester Britain's top tech city by creating awesome work environments to rival those of the big London firms.
Since moving to our new HQ the team has grown and flourished. Of course, there were challenges along the way, but the office is evolving every day into something amazing. Let us know if you want to come and visit.
Plus, the Great Workplaces accolades are decided by the team, who each complete a survey rating various aspects of working here. It is thanks to our awesome team that UKFast Campus is a great place to be. You can't have a strong culture without the people to personify it.
So we just wanted to say thanks to the whole team for making UKFast what it is. And to anyone who wants to become part of the UKFast Family, you can apply for a job here.