The Forecast for Social Ads
Targeted ads aren't exactly a new thing, but when social media teams up with the UK's number one conversation point – the weather – you know it's on. Twitter has teamed up with the Weather Company to bring us weather-targeted ads, so be prepared for a storm of veeery specific suggestions coming your way.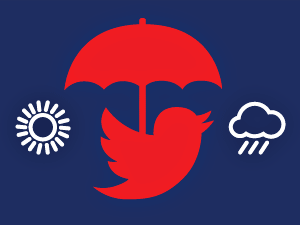 The outcome of the partnership is that some of the ads that you see on Twitter may eventually be based on your local weather; so if it's a nice weekend in Manchester (hey, we can dream), we might see more beer ads, or if it's raining (more likely), you might see an ad for wellies. The Weather Company has been doing targeted ads on its own site for ages, and is now sharing its data to inform ad purchases across third-parties; but this is the first time that it's trialled this kind of advertising on a social site.
On Twitter's side, the Weather Company is the first media site to automatically buy ads and get access to users' information, with the help of Twitter's advertising API ('Application Programming Interface', for the less tech-inclined among us). An API is a way for an application to 'interface' and communicate with another system; so they can share carefully limited bits of the programme's information with the outside world. It can then interact with other programmes; for example, the Yelp app sticks its data on the Google Maps API in order to show services nearest you with an already established map.
Curt Hecht, the Weather Company's chief global revenue officer explained the move from their point of view: "People experience the weather that don't use our properties, so this enables us to connect with them elsewhere." He also reckons this kind of targeting will become more common: "Most media companies haven't fully leveraged data and insights around their users yet, but I think they will."
It's powerful marketing to be fair; especially as so much of what we do, and how we feel, is based on the weather. It's also a little creepy. Cookies still make me feel like I'm being stalked by the internet; and as location-specific tech is on the rise, and privacy concerns are also increasing, are people going to want to feel the world's walls closing in on them?
Hecht certainly thinks so, and predicts that Twitter will soon expand this kind of advertising; so it's probably only a matter of time before other media platforms follow too. There's no official start date for the weather ads yet, and at the moment there doesn't seem to be much mention of if it will extend outside the US (probably because if it was the UK they would pretty much constantly just advertise 'umbrellas'). But if you do start seeing any ads for Pimms on that elusive sunny day, then don't be too surprised!
What do you think – are weather ads weird or a great way to boost social media?
We've got more social media predictions for 2014; and if you have any queries about your solution give us a call on 0208 045 4945 or contact your account manager.