Why Game of Thrones has got the North/South Divide All Wrong
I'm not going to lie to you, as an honorary northerner, I'm none too happy with the harsh treatment of my people in Game of Thrones. The writer, George R. R. Martin is American, and he clearly knows nothing (Jon Snow) about how this works; because it turns out that in the real world (which is where the rest of us live George), if not in Westeros, the North is actually flourishing as a business hub.  Probably due to a distinct lack of white walkers.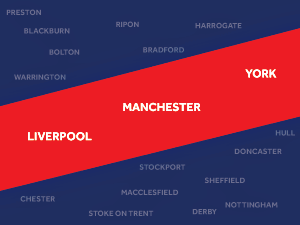 A recent study by Barclays and the Economist Intelligence Unit has found that clusters of startups are creating a corridor of awesomeness from Liverpool and Manchester to York. The report cast a beady eye over experts in industry, academia, government and businesses to figure out exactly what's needed to create an 'innovation ecosystem' in the UK. What they found was that recovery and growth are happening more outside the South East, especially near universities; suggesting that it's not location as much as opportunity and resources that's generating growth.
Antony Jenkins, Barclays chief executive, said: "Entrepreneurs will thrive across the UK if conditions are put in place that allows them to do so. This research shows that business, the education sector and government can all do more to create thriving entrepreneurial ecosystems across the UK."
He added: "The northern corridor is an example of a successful hub establishing itself outside London and the south east. The challenge now is for all interested parties to do more to create those conditions elsewhere. A thriving entrepreneurial industry in the UK will create jobs and growth and have a knock-on effect to the wider UK economy. It has to be a good thing."
The study identified specific challenges including:
Encouraging entrepreneurial hubs beyond traditional city boundaries
Strengthening ties between education systems and the business community
Removing demographic-specific barriers to entrepreneurialism
Better matching the funding needs of entrepreneurs
And it's not just startups. Other businesses are starting to look at locating their data outside of London for added protection, against, things like natural disasters or the threat of terrorism. In London rent is rising, people are just angry ALL THE TIME (GoT did kinda get that bit right), and there have been murmurings that startups are moving out of silicon roundabout to create new pockets of innovation.
And why not? Looking outside of London, Manchester is the UK's second internet hub, and when BT's done with its multi-million pound investment in its broadband, it will reportedly put this fair city ten years ahead in terms of connectivity. We've also got The Founders Dock Hub in Spinningfields which gives space, tech and mentoring to startups, including twelve hot desks and access to the latest tech. Not looking too shabby really!
The study concluded it's a nurture not nature situation, and that entrepreneurialism is something that can be fostered with the right cocktail of learned skills, opportunity access and confidence; when you combine all this with the North's innovation, it seems like heading north of The Wall might not be such a bad move after all!
What do you think – is the North the new place to be?
If you have any questions on the location of your data, give us a call on 0208 045 4945 or contact your account manager.