Fridays at UKFast – 16th May
For anyone who's feeling the pain of working an entire week after lots of lovely bank holidays, fear not; we've got a few things to brighten up your day and ease you into the weekend. While you're at it, catch up on why the new .uk domains are better than chips and gravy, how to pre-order your .london domain, your right to be forgotten online, and eight common security mistakes too. Now snuggle down, it's time to relax.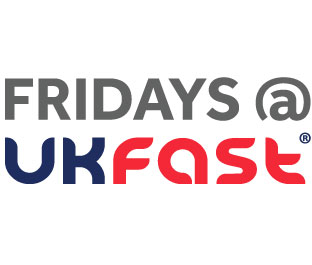 Going phishing
There's a new nasty in town. A phishing scam has been targeting Google passwords, exploiting the uniform resource identifiers (URIs) that Google Chrome uses to display data. This means that Chrome users are most vulnerable, but Mozilla Firefox is also in the firing line. "With access to users' Google accounts, hackers can buy apps on Google Play, hijack Google+ accounts and access confidential Google Drive documents," said Catalin Cosoi, chief security strategist at Bitdefender, the company who put out the warning. So yeah, it's pretty bad.
The subject of the email will probably read 'Mail Notice' or 'New Lockout Notice', and the body of the email will go something like: "This is a reminder that your email account will be locked out in 24 hours, due to not being able to increase your email storage quota. Go to the INSTANT INCREASE to increase your Email storage automatically." But really, don't!
Keep your cool
I've always been told that by keeping my hard drive cool it will work for longer. Well, turns out that I've been living a lie. After testing 34,000 hard drives kept in different temperature pods, Backblaze found no obvious difference at all. Apparently different drives run at different temperatures naturally, and drives labelled as energy-efficient tend to run cooler; but how you store them won't make a big difference.
There were some differences in individual hard drives – the Segate Barracuda performed slightly better in the cool for instance – but overall not so much. Unfortunately there doesn't seem to be much information on what does help, but at least you can stop buying fancy stuff to try and keep your drives cool.
Googlin' around
In the past, I've not been the biggest Google maps fan. I have zero sense of direction and no car, so when Google tells me I need to get a bus that doesn't exist on an abandoned route, I get a bit of a rage on. But Google Maps' UK edition has been updated to include data on every train, bus, tram and ferry across England, Scotland and Wales. Data should be coming for Northern Ireland soon too.
The info can be accessed via the web or with the Google Maps app; and as Kantar World Panel data suggests that as of March this year, 56.2 per cent of UK mobile devices ran Android, Google is fast becoming a hub of transport information. The information covers more than 1,000 transport operators, and includes details such as departure times, interchanges and distances between stations. Well, looks like I'll finally be able to leave the house again!
Wrap your mind around the new iphone patent
On Tuesday Apple had a new patent granted for a snazzy new side-mounted wraparound display. Apart from looking rather flash, the new design could mean more virtual buttons on the edges of iPhones, where the physical controls were. The display would run round the edges of the phone, which would allow for more virtual options (like volume buttons); it can also show other controls and information further from the main screen, freeing up more real estate on the front. There might be some new features too, as the patent suggests they could be adding a dedicated camera button, and a few other fancy new functions.
We'll leave you with Supercat, proving that you can always surprise people
https://youtu.be/Tb4r5vQM1yo
What have you seen this week that's worth sharing?
Have a good one!