Three Billion Connected
Sometimes it feels like the entire world's online already; especially when I'm trying to avoid Facebook friend requests from my mum. But actually only about 40% of us homosapez are online, and early next year we should be welcoming the three billionth user to the internet, according to the International Telecommunications Union (ITU). What's even more interesting though is where they're probably going to be coming from.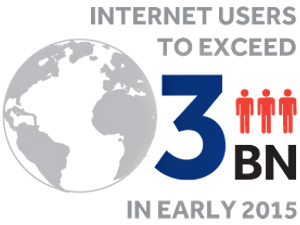 Three billion may sound like a lotta people (because it is a lot of people), but considering that by 2015 it's estimated we'll have a little over seven billion people in the world, and that in the UK most of us take the internet for granted, it's probably less than you'd expect. Mobile phone subscriptions, for example, are already nearing seven billion (presumably because some people have more than one, otherwise we've got some seriously dodgy maths going on here!) leaving the internet lagging behind.
On the other hand, internet growth is pretty rapid, especially in what ITU call 'developing countries'. At the moment, 55% of the 2.3 million mobile broadband subscriptions are in developing countries, and mobile broadband penetration is growing by 40% in Africa, which is the fastest globally and twice the world average. And this is probably where the 3 billionth internet user will come from too.
What it tells us is that businesses need to be looking to the next step. Where will the internet go when 6 billion people or more are online? Should businesses be focusing more on the developing world, and the opportunities the internet can offer, and be offered, there?
The World Wide Web celebrated its 25th birthday earlier this year and it has a lot to celebrate, having changed almost every aspect of our lives; from the way we communicate, to the way we do business, to the way our fridge can now spam us. And it's about to get another few hundred million people to show up at its party. So, it's worth bearing in mind that whoever can tap into the next 3 billion people to come online should have some serious business on their hands.