# your Way to Easier Shopping
It's my firm belief that one day Amazon and sloths will rule the world. Sloths, because they're so cute no one will suspect them, and Amazon because it basically does everything for us. Seriously; it's about to take to the skies, it keeps track of all the books I want for Christmas (on my wishlist, if you're interested), and now it lets you add shopping items to your basket via Twitter.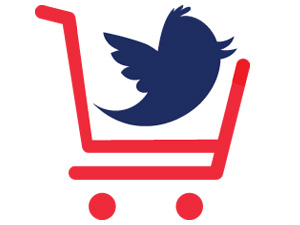 To take advantage of this zazzy new "add it now, buy it later" service, connect your Twitter and Amazon accounts (don't have Twitter I hear you say? Even the Pope has Twitter! Get Twitter!); if a link to a product page appears on your Twitter timeline, you can reply to the tweet using '#AmazonBasket' or '#AmazonCart' (US only for now I'm afraid peeps) and it will add it to your basket. Then just stroll on over to Amazon's website to pay. It's a pretty smart move as it saves a lot of faff, and is basically free marketing for companies; by tweeting in response to product links you're telling the world what you're going to buy next.
On top of that – as if they needed anything else – last month Amazon started trialling Dash, a small handheld gadget with a barcode scanner and microphone for food shoppers – again in the US. It adds scanned groceries – or you can speak the name of the product – to your Amazon basket, speeding up the order process. All of this pushes the e-commerce e-nvelope just that bit further, to bring in the new era of online shopping.
It also takes retail rivalry to the next level, as all this is announced just as Google launches its same day shopping delivery service. Google Shopping Express is basically the personal shopper I've always wanted, because shopping is boring and makes me sleepy. Google employees go round the stores to pick up purchases you've made online, and deliver them to your door on the same day. After working out a few glitches over the last year, the service is offering a free trial in Manhattan, West LA, San Fran's Bay Area; they say they'll expand the service to other parts of Los Angeles, Bel-Air, Beverly Hills, Pacific Palisades, Playa del Rey, Playa Vista and West Hollywood soon. After the six month trial is up they will probably start charging at about $4.99 for each store the visit for you.
In terms of business costs, it's a toss-up. Amazon uses its existing network of fulfilment centres to deliver products quickly, giving them more control. Google picks up products from retail stores, so they don't have to build warehouses.
If you're an e-commerce business then it's important to be constantly looking at how you can streamline, integrate and give the customer what they want. Amazon has started taking valuable search advertising business away from Google, and by successfully integrating social media into its shopping process it could well take even more; on the other hand Google has potentially found a way to give us what we want, as soon as we want it. And in this age of instant gratification, that's delivering, in every sense of the word.
If you have any questions about how we keep your business online give us a call on 0208 045 4945 or contact your account manager.