Million Dollar Domains
Millionaires are confusing. They love to buy Ferraris, mansions, islands…and er, Internet domain names. A two-letter web address has just been sold for $3.6m (£2.1m), making it the most expensive domain name purchased in 2014, and proving that domains have some serious desirability.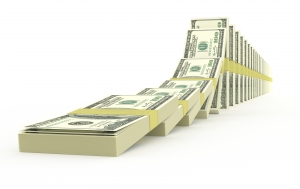 Xiaomi, a smartphone firm from China, has just splashed out on mi.com, smashing the price paid for 2014's previous leader – whisky.com – which sold for $3.1m (£1.8m).
Until now, mi.com was a parked domain (there was no content on the site), which suggests it was held by an individual or company looking to sell it for a profit. The company expanded into Singapore in February, and is set to go global in the coming months, suggesting that their purchase is part of a bigger business push.
The buzz on the street is that the company shortened the name to help it break into Western markets where customers might find it hard to pronounce or spell (x in mandarin is pronounced sort of like 'sh'); and making domain names easily searchable is something that should be kept in mind when picking one.
This sale is nothing compared to the web address hall of fame though. Topping the charts at a whopping $35m (£20m) is vacationrentals.com, bought in 2007. Trailing behind at a (relatively) measly $16m (£9.5m) is insure.com and, surprise surprise, sex.com is in there too, snapped up for a steal at $13m (£7.7m).  So actually, mi.com is only the 17th-most expensive domain ever; if it was a race, they wouldn't even place.
There are lots of reasons why people spend big on domain names; usually because they believe that it will eventually pay off when promoting their business. And, considering the current precedent, it almost certainly will. In 2012, the UK was the biggest internet-based major economy, and last Christmas we hit record online sales; so it seems that if you want to go big you have to get online. And if you want to get noticed online, the easiest way to do increase SEO and searchability is to get a good domain name.
This has been found with the ICANN gTLD rollout too, and part of the reason the .london extension being released today is so popular. Former Android executive Hugo Barra – the guy in charge of Xiaomi's international rollout – tweeted: "Shorter name, bigger world :)". And that's really what they've paid for, and why millionaire domain names are probably totally worth it.
Get in there quickly and register your own domain names through UKFast.