In Glass we Trust
Google may have been hallelujah-ing about its Glass wearable whizzkid since forever now but so far the tech, the wearers and the company themselves haven't been getting the best rap (for example, their attempts to trademark  the word 'Glass'). But – haterz aside – it turns out there is massive untapped potential to use Glass for good.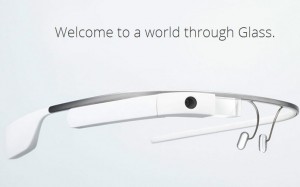 It seems that behind all the hoo-ha, Google has been looking into more practical uses for its latest wunderkind, in their Glass for Work initiative; and among these are potentially life-saving steps in medicine. One doctor in the US has claimed that the speed with which Glass allowed him to access medical records helped him save a patient's life. The patient was brought into his hospital with a brain haemorrhage and needed certain drugs to help him; the patient knew he was allergic to some but couldn't remember which ones and by quickly scanning his records the doctor was able to find out. After its heroics, the entire hospital has now rolled out the Glass tech to all doctors. There have been several other cases like these, and – particularly in an industry where the workers often need their hands free in urgent situations – these kinds of stories could start to become more common.
Google says the main idea behind its new initiative is to help provide internet access for jobs that need connectivity but don't always have it easily available. So, it's starting to trial in a few different institutions and, to be fair, it's already finding a niche in several areas. For example, in sports it can be used to live stream footage from the player's perspective to fans and coaches, allowing for a more immersive experience and tighter game strategics. They've partnered with Wearable Intelligence for the push, who are building specialised software for the device to help it adapt to different industries.
This could also have positive implications for data security: the company's medical software allows doctors access to patients' data only when they're connected to the hospital Wi-Fi, but Google itself won't have access to the records. This should reduce the chance of a stolen device being hacked for sensitive information.
Researchers at Newcastle University are also using it to look into ways it could help Parkinson's sufferers. It's believed Glass could potentially be revolutionary for their lives as the motor symptoms of the disease, like tremors, wouldn't restrict the use of Glass in the same way it would with other types of devices.
On the other hand, there are lots of people who don't like the thought of using the super specs, or are uncomfortable with the way it makes you stare; and there have also been reports of some wearers attacked because of it.

Glass isn't available to the public yet, but Google are allowing some pioneers to trial it. It's interesting though to look at how wearables could become more than just nifty gadgets, and also how businesses can capitalise on the massive potential that they offer. Google themselves have said, "A number of companies have already teamed up with enterprise software developers to create new ways to serve their customers and reach their business goals." At the end of the day then, it sounds like this could be a real chance to innovate on the next generation of tech that's just waiting for us on the other side of the looking Glass.
Image: Google Glass