Silicon Valley Strikes Back
Proving that you don't just earn minus 'neighbour points' by playing Rage Against the Machine loudly at 3am, techies have been getting some hate recently too; Silicon Valley has become startup central for tech wizards – but not everyone's happy about it. The question is, are they right?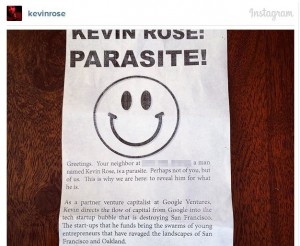 San Fran's Bay Area is now infamous as a hub of tech innovation – there's even a TV series being made about it. But all is not well in the Valley. This week a letter hit the headlines (warning: contains some strong language) telling the neighbours of one member of the Valley that they were living next to a 'parasite'. Poor Kevin Rose had protesters outside his home complete with flyers and picket signs. His crime? Investing in startups.
The letter read: "As a partner venture capitalist at Google Ventures, Kevin directs the flow of capital from Google into the tech startup bubble that is destroying San Francisco. The start-ups that he funds bring the swarms of young entrepreneurs that have ravaged the landscapes of San Francisco and Oakland." Other anti-tech protests across the state have added to the bad feeling and there have been slanging matches on both sides, including Google workers' buses being stopped by protesters.
Whilst at first this may sound like a run-of-the-mill grouch, it's also true that 'Silicon Valley' (SV) has turned into a monster pain for the people that already lived there; the main problem being that affordable housing is increasingly hard to come by, as the Bay Area becomes a desirable postcode. The boom has created a massive spike in housing prices but the jobs are actually varied in their salaries, and what about – as the letter points out – the people in service-level jobs that lived there before? The Bay Area Council reckons that every high tech job that springs up in the area creates four jobs in support services fields, so there is the demand but not the wages to go around. To be fair though, it seems even the tech employees are suffering too, as some have also claimed they aren't being paid enough to afford to live there either!
So, the people living in Silicon Valley are working harder and living in increasingly cramped conditions, and it doesn't look set to get any better at this rate. Is this the fallout of success? There are some companies that are trying to tackle the problem – for example, in SV itself, Cisco Systems Inc. have invested over $2m into trying to improve housing – but predictions suggest that it's not going to get better.
In that case, would it be better if concentrated expertise areas like this didn't exist? Well, they still seem to be helping with our tech at least. Bill Gates said in an interview with Rolling Stone: "Innovation in California is at its absolute peak right now. Sure, half of the companies are silly, and you know two-thirds of them are going to go bankrupt, but the dozen or so ideas that emerge out of that are going to be really important". Thanks Bill, that seems…mostly good?
In a country as big as America it initially seems like it's simply time for the next new techtopia to appear somewhere else. Unfortunately the community already built there is creating a vicious cycle: if everything in SV, from the lawyers to the events, is geared toward supporting tech startups, then it's not giving much motivation to leave, in the short term at least.
The deteriorating situation in San Fran could be a warning to us in the UK. This side of the pond we do have areas – possibly not on the same scale – that have similar setups. In London, Old Street – well, East London generally – has had an explosion of web and media startups in recent years; so much so that it's been named Silicon Roundabout. Rent and housing there is undeniably high too, as my impoverished post-London purse can confirm.
Further out, Cambridge has apparently earned the (slightly less catchy) title 'Silicon Fen', after the promotion of science and tech growth by its uni. In 1970, Trinity College set up the nearby Science Park to attract science-based industry to the area; it's now home to 100 companies, which has undoubtedly generated growth in the surrounding area, and given us some of the best-known names in the UK tech sector. Maybe the impact hasn't been so bad because they're both in places that have a wider range of income sources, or because they aren't on quite the same scale as in the US…or maybe the neighbours are just less vocal about it.
What do you think, is there any way round the Silicon Valley Crisis? What can we do to avoid the same issues over in the UK?
If nothing else, it seems that location has a massive impact on business. If you have any questions on UKFast, and where your web hosting solution is located, your account manager will be happy to fill you in.