What Cloud Computing and Magic Noodles Have in Common
Much like the Harry Potter prophecy, cloud computing has been tipped to be a big deal from the start; the chosen one, if you will (apologies to any Harry Potter haterz out there)! But it seems like the new kid on the block is making a name for itself even faster than anticipated.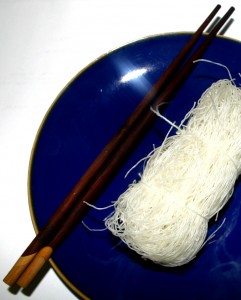 Recent research has shown that as of Feb 2014, 94% of 1068 technical professionals asked are already using the cloud. THAT'S ALMOST EVERYONE!
To be fair, these people are already in the biz and therefore may be more likely to get into the cloud early on (hence the high percentage of adoption). But if people within the industry are already using it then it shows that this is the strategy that other industries, who may not have as much tech knowledge, could be cashing in on too.
87% of the organisations were using public cloud in some capacity, but the clear leader was hybrid, as 74% of the enterprises now have a multi-cloud solution in place. Hybrid has proved a great middle ground for many and it's easy to see why it's fast becoming the popular choice, with its 'best of both worlds' vibe.
But what the research also shows is that the businesses that do have the cloud in place often don't clarify crucial strategies like disaster recovery and cost management, which is kinda like buying magic wands and using them as chopsticks; as much as you might like noodles, it's still a total waste of potential. And with chopstick-wands you could have magic noodles; which is pretty much what the cloud is. (No more Harry Potter references, promise.)
The report also suggests that security is becoming less of a concern – amongst this group at least – so maybe now the cloud will seriously take off as a hosting option without these fears holding it back. So now it's just a case of trickling that expertise through to enterprise and SMB leaders, and ensuring that they have the knowledge and advice to enable them to define clear strategies; because when that's done, it looks like the sky's the limit.
To find out more about UKFast's eCloud and how it could help your business, give us a call on 0208 045 4945.