How To Keep Your Data Backed Up
In the summer of 2007 my computer crashed and I lost 7,000 songs and several important pieces of university coursework. It was a very dark time for me. Today is World Backup Day, and – because I never want anyone to go through what I went through after the Great Crash of 2007 – I'm telling you now to backup your data. Go, do it now.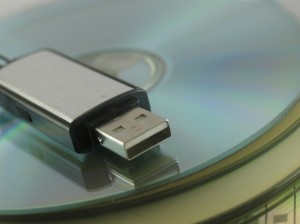 Both professionally and personally, data is important. It may feel like it'll always be there, slowing down our laptops and using up storage space on the office network, but the harsh truth is that your data could be gone in a flash; a very stressful, potentially costly flash (replacing 7,000 song's worth of music was not cheap, I'll tell you that for free)!
But don't just take my word for it. Here are some stats from the guys at world backup day:
30% of people have never backed up.
113 phones are lost or stolen every minute.
1 in 10 computers are infected with viruses (virii??) every month.
29% of disasters are caused by accident.
 Scared yet? Here are a few tips to get you started:
1. First thing's first. Make sure you have a decent storage system, whether it's an external hard drive for your personal files or something a little more sophisticated for work.
2. Keep this far away from your original so that any errant children, natural disasters, or clumsy hands can't get to it (for example, at UKFast we have dual site replication). Potentially these should be split across different systems too.
3. Cross-device back up too, so that any nasty glitches that affect one don't affect the other. Got the original on CD? Backup onto USB. Mix 'n' match like there's no tomorrow.
4. Have more than one back up – three is a good number.
5. Make sure you refresh these copies regularly and back up new things, as well as maintaining and checking the devices you're using for backups – once a month at least ideally.
6. Make sure these backups are secure too, as people are actually sometimes hacked and then blackmailed to get them back.
7. Consider the different levels of things you can and can't afford to lose. For example, losing my music was pretty heartbreaking but not irreplaceable, unlike photos and the Pulitzer prize-winning novel I clearly had on there…
8. There are sites out there that will back up for you but do some research first, as sometimes they end up less safe than doing it yourself. Using both home made and cloud backups to double up is a pretty good belt and braces approach. Watch out for sites that are pretending to help but are actually malware, like CryptoLocker, which disguises itself as an email attachment.
Keeping your data backed up doesn't have to be costly or complicated, it's just a little time consuming – but at the end of the day it's definitely worth it. The site asks you to take a pledge – "I solemnly swear to backup my important documents and precious memories on March 31st".  And I think you should probably listen to them. What are your tips for backing up your data?
If you have any questions on how we backup your data, call your account manager or phone us on 0208 045 4945.