Thank you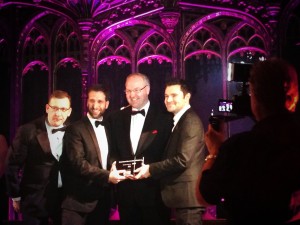 Wow! Thank you for voting us Manchester's Business of the Year! We are over the moon to have scooped another amazing award to add to our cabinet – all thanks to your votes and support.
Last week, we took home the Business of the Year at the City of Manchester Business Awards. Celebrating the cream of Manchester's crop, the awards were an amazing showcase of just how much our fair city has to offer. And we're super proud to be a part of it.
The past twelve months have been amazing for us; with the move to UKFast Campus, the launch of our eCloud, and the opening of our newest data centres. We're more committed than ever to making Manchester the most connected, digital city outside of London.
This week we launched our new auditorium, a 300-seat creative space with a 100 sq ft digital screen, stage, theatre lighting and accompanying bar and lounge area. This space will be free for businesses, networking groups and schools across Manchester, and has already been christened by the Manchester Camerata.
We're also committed to helping the community throughout 2014, so watch this space for more projects cropping up soon.
Thanks again for helping us to grow and enabling us to help others, and we hope you continue with us along our latest journey.