Cashing In on the New Era of Tech
Back in the days when the most I could hope to get out of my phone was storage for five texts and a good game of snake, it would have been crazy to think that they would one day take over from PCs. But that seems to be the word on the data-savvy streets, so – for the sake of your business – make sure it's mobile!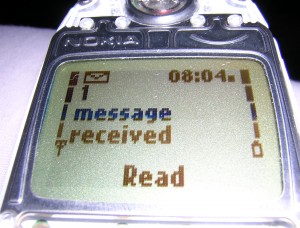 According to last month's Nielsen report, the average Brit now spends more time in front of their phone than their PC. In the last few years they've really taken over all our data desires, and now we use our phones for so much more than just text and calls. This is particularly true in the UK, where we beat Americans (who rolled in at 34 hours) to spend an (impressive) average 41 hours per user in December 2013 on our phones.
Apps account for the most time spent on devices, and more than one in four phone minutes in the UK is spent on social networking apps. Clearly we're giving our phones some serious attention, and when you add that to PC and TV usage it's a lot of tech time, so make sure you're taking breaks and looking after your peepers too (we've got a few tips on keeping healthy in front of your computer too).
The truth is that more and more people are moving to fancier and fancier smartphones (even my Gran has one!) and the effect it's having on our lives is mind-blowing. This is the future happening right now, and businesses have the chance to shape not only their companies but also the face of the mobile business. We can work on the go and be connected pretty much anytime, anywhere; the possibilities are endless but if your site isn't mobile friendly, it'll cost you.
Make sure your sites are using responsive themes – look at things like CSS (Cascading Style Sheets) technology so your site will auto-adjust to different screen sizes; ensure you're keeping structure and content in mind, and keep it as simple as possible – always ask yourself 'will this work on a mobile?' Also the little things like having buttons big enough for larger fingers is important, so it doesn't take 50 tries to hit that elusive button.
Ask for feedback from your customers and if there are a few standard actions that people repeatedly do on your site (for example, checking train times on a rail provider) consider having a mobile app that focuses on making that easy. You could also hybridise and have the best of both worlds: an app for a few repeated functions but then a general mobile site for everything else. This could end up being expensive, but can be outweighed by the potential business gained from having a great, smartphone-friendly site – the ROI is usually worth it.
At the end of the day, a website should be whatever the user needs it to be to make his or her experience easier and more efficient; in this rush-hour age, most people would rather smash their phone into a million rage-filled pieces rather than put up with a slow site that they can't check in Starbucks. So, if you don't want to leave a trail of ruined smartphones in your wake, make sure you're thinking about how your particular business could benefit from going mobile. Keep track of your analytics; test it regularly to make sure it works well, and finally, be prepared to work out a long-term strategy and adapt as needed, because the mobile movement is here to stay!