'Appy Days
Today is international day of happiness, and – even though sometimes technology can make us feel the full spectrum of rage emotions – there are many that can make us happier too.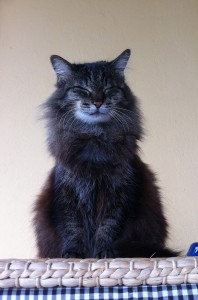 Start the day off right with Sleepbot, the app that wakes you up within a 30 minute window, to catch you in the lightest part of your sleep cycle. You avoid the jarring hate-awakening that your alarm normally gives you, and get a cracking start to the day.
There's a massive market for health and fitness apps, and staying healthy is one of the top ways to stay happy. Argus is free and tracks your general wellbeing throughout the day. Other paid apps like Nike+ GPS are great for runners, planning ideal routes and keeping track of pace too. The sensor doesn't have to be in the shoe any more either, so no special equipment is needed. There are loads of fitness apps for you to chase down, so just pick one that you think will suit you best and endorphin yourself up.
Happify claims 86% of members get happier in 2 months. The platform teaches users five key skills (to savour, thank, aspire, give and empathize – STAGE) that positive psychologists who advise the startup have identified as underpinning happiness, using quick activities and games.
Rather than just falling into an exhausted marshmallow position in your bed at the end of the day, making time to be grateful is a good way to focus more on positive thinking. There are a few on offer, but apps like Gratitude journal encourage you to write down five things you're happy about each day. It aims to train you to think more positively overall.
The #100happydays project is pretty similar – it's not an app but it gets to you take a photo of one thing every day that's made you happy, and then sends you a booklet of them at the end.
And – proving there's something for everyone – if being antisocial makes you happy, then Cloak will help you hide from friends, acquaintances, and that weirdo at your office who won't leave you alone. Go forth and avoid.
Being in Manchester makes us happy; take a look at our own happy video here:
If you want to find out just how happy hosting with UKFast could make you, give us a call on 0208 045 4945.