Getting Smart About Saving the World
With great power, comes great responsibility. But for many of us, the power we wield with our smartphones is mainly used to Google the human Popeye, and Snapchat pictures of us playing chubby bunny to our friends. But sometimes, someone decides to harness the power of the internet for something good (which is a nice birthday treat for old netty, as she turns 25 tomorrow), and reminds us of the possibilities the internet holds.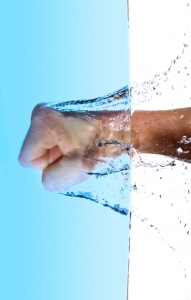 Today Unicef have gone live with their Tap Project, and are putting your smartphone addiction to good use. For every 10 minutes that your phone goes unmolested they'll donate money to provide clean water for children in need; and as millions go without basic human sanitation every day, hopefully we can go without our phones for ten minutes.
Once you've started the timer, and while you're nervously eyeballing your recently-estranged phone, it gives you some interesting facts – presumably to distract your mind from thinking about all the cats doing hilarious things that you could be youtube-ing right now. The all-time record, my phone is currently telling me (I just hit 30 minutes, enough to buy 11 water purification tablets), is an impressive 275:21:58. I don't exactly know which measurements this is in, but it informs me it's a lot longer than I've managed.
This isn't the first time tech's been used for aid work, and shows just how much power it has to connect us with those in need around the world. There are many entrepreneurs who have seen the value in connecting people; for example, the UN Social Good Summit last year saw bids from companies already helping around the world – such as a $10 solar panel SunSaluter, which has already improved the lives of over 1,000 people in Kenya; another – Sparked – allows people to provide advice and help around the world without leaving their desks.
What's great about Unicef Tap Project is that it plays on our love of our devices, and also presents a challenge, as it appears we can't keep away from our phones – the average for Cambridge is one measly minute. But, it seems, there are lots of ways that technology and businesses can come together to improve the world.
What innovations have you heard of recently that can improve the lives of others through technology?