15 Years Aboard the Apprenticeship
Many (many) moons ago, Chris – our director of partner development – was considering his options for the future: university or apprenticeship? Chris takes us for a trip down memory lane to share what it was like for apprentices back in the day and how his experience changed his path forever.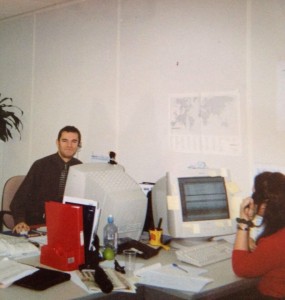 So there I was, a spotty 18-year-old about to leave college (having focused on Business Management Studies) and make my parent's proud by going off to university (Edge Hill was the institution of choice); but something inside of me made me explore more options.
I visited the college careers office and was told about a new apprentice programme by the Arcadia group. Arcadia ran fashion retail stores such as Burton Menswear, Topman, Topshop, Dorothy Perkins and Evans. As I was interested in fashion this caught my eye.
I would spend most of my time within a local store learning everything from shop-floor point-of-sale to back-office systems and staffing. Every couple of weeks I'd spend a day at Head Office in Leeds. And I'd get paid £8,000 for working & learning for the 1 year term…so I went for it.
I recall one day being interviewed by some of the senior staff at Arcadia about why I didn't go to university and how my parents reacted; my response, from memory, was purely based on earning money and the desire to start my career at a young age. I knew I had to work hard to establish myself and gain experience, which seemed the most important aspect of starting a career.
Once the year was up I was offered a full-time role as the assistant manager of the ground floor at Burton in Liverpool, the biggest in the country. It was soon after that I realised that I could use my skills and pursue my other passion: technology. I applied for roles within I.T. companies for customer service related positions.
In 2000 (I'd just turned 20 years old), a small hosting company called Xtml Ltd had secured funding to grow and needed staff, they were kind enough to give me a shot and I've been in the server hosting industry ever since.
Looking back, I'm pleased that I chose this route; it was right for me and financially I'm carrying no debts from tuition fees and student accommodation. I've always been proud that I started my working life so early and remind myself that I started from the bottom and have worked my way up the ladder to the position I hold today.
While university may be the right choice for some people, I think it is so important to remember that there is a choice and young people should decide what the right route is for them. My twin brother chose to go along the university route and I chose an apprenticeship – and now we both have careers we're really proud of… although he does still have a few thousand pounds of student debt left to pay off!
Chris is our director of partner development, inviting the local community to come and visit the new UKFast Campus to see how we plan on helping businesses, school, colleges, universities and charities. He spends his days giving tours and explaining why we have an onsite crèche, gym and large auditorium and how they can be used!