5 Tech Books you should Read this World Book Day
In the wise words of Dr Seuss, "The more that you read, the more things you will know. The more that you learn, the more places you'll go." And this couldn't be truer than with me and technology  – I definitely have a long way to go! So, as today is World Book Day, I've been hunting around for a few ways to expand my tech knowledge. Here are 5 books from, or about, the tech world that have been recommended to me by my friends in the tech department, and by friend to the world, the Huffington Post. (I didn't include the Linux manual that one of our tech guys sent me; you can thank me later. With cupcakes.)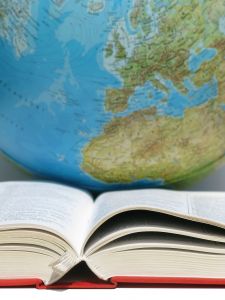 1. 35 Educational Programmes for B.B.C Micro – Ian Murray, 1983 
Firstly, we've got a non-fiction entry from the vaults. One of our tech guys said: "I had this in my early years before I could afford games. It's an old school book for writing your own programs on a BBC microcomputer, from the days when games and applications were written in bedrooms and sold for £2. Many of today's programmers over 30 years old probably started their computing career on a B.B.C micro with a book like this!
"In the old days you could go to a place called a library, borrow a book/s (for free) then write your own games. They took the best part of two hours and hundreds lines of code to make a rubbish game, but the sense of achievement was in the construction, not just the result". It's always interesting to look back – especially in this industry – and see how far we've come.
2.       Lean In: Women, Work and the Will to Lead – Sheryl Sandberg, 2013 
This one is more a product of the tech world than specifically about it; but, not only is Lean In by  internet giant Facebook's COO, Sheryl Sandberg's infamous TED talk also gives long, hard look at how women can progress as entrepreneurs; particularly interesting considering the tech industry is typically a male-dominated space.
3.       How to Win Friends and Influence People – Dale Carnegie, 1936 
Another recommendation by one of our tech lads, "It's not so much tech, but 'How to win friends and influence people' by Dale Carnegie is always a good book I would recommend to anyone". The book promises to "turn around your relationships and improve your dealings with all the people in your life". And, as it's been described as 'one of the best written self-help books ever published', it probably deserves a spot!
4.       Smarter Than You Think: How Technology is Changing our Minds for the Better, Clive Thompson, 2013
Hailing from Huffington Post's 'Best Tech books of 2013' list is 'Smarter Than You Think: How Technology is Changing our Minds for the Better,'which has made a top spot on several others too. Considering how much bad press tech can get, it's good sometimes to stop and think about how it has also made our lives so much easier. Amazon says, "In Smarter Than You Think Thompson shows that every technological innovation – from the written word to the printing press to the [T]elegraph – has provoked the very same anxieties that plague us today. We panic that life will never be the same, that our attentions are eroding, that culture is being trivialized. But as in the past, we adapt – learning to use the new and retaining what's good of the old."
5.       Ready Player One – Ernest Cline, 2012

One final one from our techies is a sci-fi fiction to round us off: "You should have 'Ready Player One'." A futuristic look at the decline of the world in 30 years' time, the protagonist spends most of his time in a virtual reality Utopia, along with most of the rest of the population. This resonates with our current obsession with tech – and also with the new leaps currently being made in VR tech, like the Oculus Rift.
So, there are places where writing and technology can live together in harmony (my life is proof of that!); and whilst they might often seem like polar opposites, when the two categories are put together they can create fascinating insights into both worlds simultaneously. Right, now I'd better get cracking on this list…
What books from the tech vaults would you recommend?