Welcome to National Apprenticeship Week!
It's National Apprenticeship Week, so we want to take it as an opportunity to celebrate the amazing young people we have working with us, and to promote the opportunities out there for the next generation of bright sparks! To kick off a series of guest posts this week our Director of Training, Aaron Saxton, gives us a bit of an insight into the UKFast Apprenticeship scheme!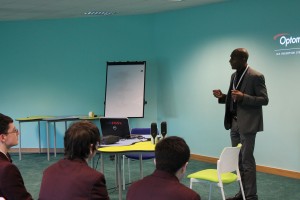 We would like to formally invite you to visit our offices in Manchester, to meet our promising apprentices and find out more about our  brand new, state of the art training academy.
UKFast, one of Europe's fastest-growing technical companies as ranked by Deloitte, is committed to developing apprenticeship and graduate schemes. In addition, the company provides continued training and development for the whole UKFast team through the creation of our UKFast University.
As part of an industry in the grip of a huge skills gap, we're stepping up and taking the responsibility to equip young people with the skills that will fill this gap and help to drive the UK's digital economy forward.
We believe that young people  deserve the opportunity to continue their education, learning valuable skills within a real working environment.  UKFast has hired two 'outstanding' former IT teachers Aaron Saxton and Arlene Bulfin to build the apprenticeship programme at UKFast University, so not only are the apprentices working full time in the company but all their training is developed and delivered in-house by our educational experts. This allows us to fully integrate the apprentices into the culture of UKFast whilst giving them a deep understanding our systems and processes. The apprenticeship route has allowed us to source the best young talent Manchester has to offer, and nurture and grow that talent within the business. The young apprentices are empowered by the scheme and encouraged to pursue the career of their choice.
UKFast CEO Lawrence Jones's commitment to people and their development has seen the firm grow from a two-man team in 1999 to the £23m turnover company  it is today.  The people of UKFast have been central to this growth – Jones understands the difference investing in people, raw talent, and their continued professional development, can make and has grown his workforce into a 200+ strong team.  Jones has also set a focus on the development of Manchester becoming part of Britain's digital hub, with involvement in the local digital community, leading seminars and events and running the annual Digital Entrepreneur Awards.
UKFast has also boosted the region's connectivity and brought much-needed competition to the market with the development of four fully-owned data centres in Manchester's Trafford Park. Our apprenticeship scheme was launched in September 2013, following a £4 million investment from Lawrence Jones to provide the wages, trainers' salaries, equipment and classroom space needed to cultivate some excellent talent into on-the-job training. This space includes a dedicated, purpose-built training facility, graduate programme and salary for our apprenticeships that's more than double the national average, to cultivate some excellent talent.
Already, four apprentices have joined the team and begun their two-year, Level 3 qualification for IT and Telecoms Professionals, which is equivalent to two A-Levels. They've also already commenced studying for industry qualifications such as Microsoft Technical Associate (MTA) and Linux Professional Certifications (LPIC) credentials which are sure to set them apart in this highly competitive industry. The apprentices have made such amazing progress with their development that they now lead technical support for some of our largest customers and clients. We've also got some fantastic maintenance apprentices setting off on their journey with us!
As well as this, UKFast Campus, our new 50,000sq ft HQ, is undergoing a huge transformation which will see the creation of a fully equipped, state-of-the-art training environment – The UKFastroom – and auditorium where our trainers will be able to nourish and inspire the potential of these apprentices to produce highly-qualified young people with transferable skills.
At UKFast we know how difficult it can be to find the right recruits with the right skills and culture for a creative business like our own. We have made a promise to nurture young people in their progression to becoming the industry experts who are the future of our innovative company.
We know that effective recruitment coupled with targeted and goal-oriented education can deliver results that will ensure our business remains an industry-leading power, and we'd be privileged if you were to visit our facilities.