Sinister Printers and Other Silent Attackers
The hot topic of the moment is protection, but I'm not talking hiring two beefy bodyguards – not literally at least. Following Snowden, the NSA, and generally finding out cyber security is as leaky as a lump of Swiss cheese, protecting precious data is at the forefront of everyone's minds. Our panel of security experts tell us their thoughts and offer tips to help defend yourself and your business.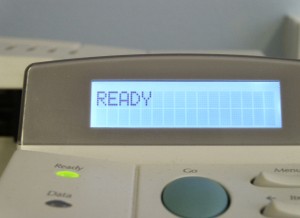 When it comes to attacks, the worst are often the ones we don't see coming. These are the ones that can do the most damage – you aren't prepared and they can go undetected for longer. This is as true for cyber-attacks as it is for a sudden migraine – both leave you crippled, just in different ways. It might sound like something out of a Steven King novel, but it's actually a reality for more people than you may realise, even at this second.
According to one survey, a staggering 90% of companies asked claim to have been hacked at least once in the last year, and many more won't even realise it happened. Tech giant IBM said 38% of data breaches in 2013 included loss, theft and exposure of personal identification information; and 43% of C-level executives say negligent insiders were the greatest threat to sensitive data. This last point, in particular, highlights how important it is that every single person in an organisation is educated on data safety – as soon as we're old enough we're shown how to lock doors and keep our homes safe, and there should be no difference in our online lives.
Terence Greer- King, director of cyber security at technology giant Cisco, believes many organisations aren't aware of the attacks they have been subjected to, a fairly popular opinion at the moment. He said: "Attacks are happening every day. Cisco has 2 million a day. The average age of an undetected attack is 9 months.  Attacks are getting through, data is being stolen and most organisations aren't even aware of it."
He recommends: "People should be well advised to go through security checks, and find out exactly what's taking place on their network now. There could be a number of attacks taking place and there most likely are."
Julian Stafford, owner of The Midshire Group, reminded us that even the most apparently innocent of objects can take a sinister turn. He said: "The ignorance is staggering in terms of the potential threats. The vast majority of people don't know that the photocopier and printer in the office have a hard drive within them that stores every single document that's ever gone through it." In the video below, he goes on to explain that it didn't occur to anyone when printers first came into regular usage that this even could happen, which is worrying considering how many private documents we scan, print, fax and copy every day.
This is especially relevant in the wake of the first ever hacked fridge last month; the hackers identified a gaping security hole in a system, using it to infiltrate the rest of the devices. It's a harsh reminder that the Internet of Things isn't just a playground for us to jump into without thinking. It also shows that we may need to make sure we're savvier this time around, particularly with the phenomenal amount of new tech that's entering the market every day.
Phil Smith, technical director at cybersecurity firm Encryption Box, offered this advice: "You need to decide what is most valuable to your business and make sure that it is protected to the maximum level possible."
It can be simple to stay secure from a personal point of view. Make sure to be aware of unusual things like fake antivirus messages or weird toolbars, although this is unfortunately a sign that your system's already been compromised. If you notice this, shut down your computer and restart it in safe mode with no networks, and try and uninstall the new software immediately. IBM also has a free scan to check your system. For businesses, get someone in to check over your systems; hire an ethical hacker to try to break their way in and always ask for advice if you think you're not as locked-down as you could be.
At the end of the day, there's no longer any excuse for not protecting our data – we wouldn't let it slide for our homes when we're out and about during the day or offices when we're closed; so regular checks and putting the proper protection in place is vital.
If you have any questions about protecting your data with UKFast, speak to your account manager or give us a call on 0800 458 4545.
Take a look at what the experts are saying from our security round table in January:

To find out more about your security options with UKFast call us on 0208 045 4945