Getting In Touch With Tactus
When it comes to our device screens, we have some hard choices to make. Touchscreens often end in nonsensical texts, and us insisting we weren't drunk at the time (autocorrect also has a lot to answer for in this department); whereas keyboards leaving us wanting a bit more screen space to swing a (cyber-)cat. But what if you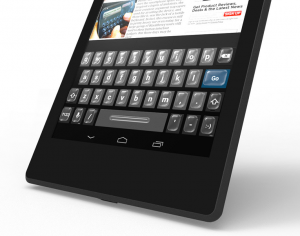 could have both? Heralded by some as the most innovative (if not the only innovative) tech to come out of CES, the Tactus is a touchscreen that turns into a keyboard.
The phone uses microfluidics, causing a keyboard to magically appear on the screen. (Alright, it's not magic, it's science; though it often seems the line between the two is as fine as a smartphone screen.) The Tactus team explains: "Small fluid channels are routed through the tactile layer and enable fluids to expand the top polymer to create the physical buttons." So basically, particles of a special kind of oil are forced into channels on the screen to create pockets and raise the surface.
They elaborate that, "A small Tactile controller is connected to the tactile layer, which controls the state of the buttons. The controller is intended to be interfaced via USB, SPI or I2C to a processor." The panel sits on top of the screen where the cover lens would normally go, and according to Tactus it's compatible with all types of touchscreen stack ups and doesn't noticeably add  to the size.
The question is would anyone realistically use it, or do people just want one or the other? Also, would this type of screen be particularly vulnerable to scratching or leaks of the fluid? If you drop the screen, as many smartphone users do – particularly when the buttons are up – serious clean-up could be required.
Last year the tech raised some interest at CES; this year it may be ready to bring to the market. They've added a long-press threshold to define how long a button needs to be pressed before it's registered, combating accidental activation. Apparently they're also looking at releasing a phone and/or tablet cover that will control the buttons, and may look at integrating the layers into other devices in the future. 
If the Tactus comes to market soon and is a game-changer for our mobile devices, the long term effects it has on web and app design could be really interesting, not to mention for gaming. Plus, if typing does prove easier – increasing convenience and meaning consumers no longer have to make that wretched choice between, say, the iphone's screen size and the Blackberry's Qwerty keyboard – then mcommerce (shopping on mobile devices) could massively increase too.
The company's just closed their Series B round of funding applications, and are now hoping to release fully later on this year. What do you think, could this be raising the bar (and the screen) for the future of our devices?
Image: Tactus