TrendingTech: Time to 'Ketchuppp'
Missing real life interaction? There's an app for that…
It's not uncommon these days to see a group of friends sitting in public with their heads down, phones or tablets in hand, responding to the latest social media goings on. Perhaps it's time to face up to the fact that keeping our fingers so firmly on the pulse of what's happening right now with various Tweeters, Instagrammers and Pinners could have a fairly big downside.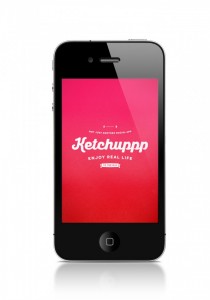 The designers behind the recently launched 'Ketchuppp' application have identified this downside as a loss of face-to-face interaction between people and their real friends (as opposed to their online friends and followers). To remedy the situation, they decided to fight fire with fire, designing an app that actually helps to increase the chances of 'spontaneous' encounters with real friends.
The Ketchuppp app identifies the user's location and alerts them when a friend is nearby. Friends, in this instance, constitute the people in the user's phonebook. This is probably a wise idea. After all, we're unlikely to have the mobile numbers of people we've never actually met before stored in our phones.
Privacy is taken care of too as user location isn't broadcast to everyone – instead, the app notifies users when a friend is within a certain distance of them. They can then contact that friend to suggest a rendezvous nearby. Contacts can be blocked too, just in case you've been actively avoiding an encounter with the ex!
The app also suggests a list of nearby cafes and restaurants where your catch up can take place, a nifty addition for users and a benefit for local businesses. It's a great idea and thousands of people have already downloaded the application since it launched. So, what do you think?
Is the tide turning when it comes to peoples' feelings towards social media? Are we getting jaded by the constant noise, updates and demands of having to constantly engage with our online associates?