'Massive Reach on a Small Budget': Gaming and Animation Key for SMEs
Gaming and animation has levelled the playing field for SMEs, giving them unlimited marketing potential without the need for unlimited budgets, according to a panel of business experts.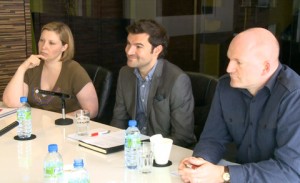 Alongside the right marketing plan, gaming and animation have the potential to generate brand awareness and open up the large audiences that would normally be reserved for firms with huge budgets and established reach.
Nina Mack, MD of digital agency Worship Digital who joined a round table debate held by hosting and colocation firm UKFast, explained: "SMEs can use gaming to enhance their marketing strategy by thinking about their target customers and how they can present a game to them that is engaging and fun but that also includes a message.
"A game on its own can generate user interaction but if it doesn't generate the brand message then the value that the company is going to get, even if it goes viral, will be minimal. Ask yourself what your objectives are before you do anything else."
Alex Amsel, CEO of game development company Tuna Technologies, agreed adding that as well as brand message, gaming and animation projects should be tailored to meet the clients' needs not just to throw your message out there and hope it sticks. He said: "Gaming allows a high level of engagement with your audience and you can tailor that engagement according to their needs. By doing that they're going to know your brand a hell of a lot better!"
Lawrence Jones, UKFast's CEO, emphasised that the only limit to the unlimited potential of the two media is creativity. He said: "You really can do whatever you want with games or animation; it's a chance for businesses to inject unbridled creativity into their marketing strategies without needing huge budgets, and smaller firms are really embracing this.
"SMEs are a step ahead of large firms when it comes to digital, and harnessing gaming or animation has opened the door for them to reach to huge audiences and real engagement."
Jon Turner, director at animation firm Kilogramme, echoed Jones's comments, adding: "Animation can be easier than doing something live action because you have the scope to create your own character – your own mascot – and you can take it in any direction you want!"
Garry Byrne, MD of digital consultancy Powered By Reason highlighted the need for a full campaign to support any projects like this. He said: "It's not a given that using one or the other will always enhance your marketing strategy but when you do want to use it make sure you use it properly.
"It needs to be part of a well-planned communications plan. You need to know what it's trying to achieve and that that's the best avenue to achieve it. Otherwise, you could waste money or, worse, alienate your users."
Top Tips:
Have the right plan before you start? Ask what you want to achieve and how gaming or animation can help you do this.
Incorporate the brand message – the true value of having a successful game or animation is having the brand message that you want to convey, running through it.
Use as part of a full strategy – a game or animation as a standalone won't be as successful as one that is supported by well-planned communications to back it up.
Tailor your content to what your potential customer needs – help them get to know you better.
Be creative. Be different. If you want to stand out from the crowd, take a risk and put yourselves out there.