Data Scientists: The New Rock Stars?
When big data was discussed on BBC Radio 4's programme 'The Bottom Line', there was a palpable sense of excitement about its future usage…
On last week's episode of The Bottom Line, presenter Evan Davis led a discussion about digital data. With him were Dave Coplin, Chief Envisioning Officer at Microsoft UK; Konrad Feldman, CEO of Quantcast and our very own Lawrence Jones.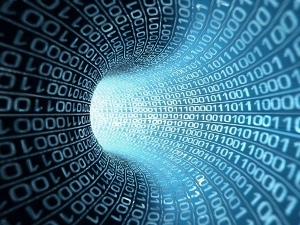 The amount of digital data being amassed and analysed is growing at an incredible rate. It's no surprise that thought leaders are questioning how this might impact certain industries, not to mention us – the consumers – in the years ahead.
Davis broke the conversation down into two parts; first, discussing how data is stored and then explaining how best to utilise it. Jones was called on to describe data centres for the listeners, portraying the hostile environment of cold aisle containment and noisy generators and, of course, the gates and razor wire around the perimeter.
When asked why people would choose managed hosting rather than look after their server/s in house, Jones explained: "It's really about being able to pick up the phone. We're the fourth emergency service. If you have to call us, we'll be there. We even have a clean room within the data centre; we're that peace of mind.
"These days, you have to have the right firewalls, intrusion detection, anomaly detectors… We've got forty people looking at monitors 24 hours a day to divert the traffic you really don't want. The question is; have you got the expertise to manage something that state-of-the-art hackers could target?"
Davis queried the reliability of keeping servers in third-party data centres, asking whether we should be worried about depending so much on these facilities. The answer was a resounding 'no' and Dave Coplin, of Microsoft UK, added: "I'd be more concerned about them being kept in the office. In the old days, your server would probably be under your desk and people would accidentally kick the cable walking past!"
As the conversation moved to data analysis, Konrad Feldman of digital advertising agency Quantcast, explained how their company utilised big data. He said: "We help website owners and advertisers understand who the audiences are that are consuming online digital media.
"We amass data from a lot of different websites and apply sophisticated software based on mathematical modelling to help us understand and estimate the characteristics of the audience, from age and income to lifestyle information, such as what interests they have."
The uses of data analysis were outlined by Feldman and Coplin as they pointed out how it could contribute to healthcare and education. In healthcare, devices for monitoring pulse, skin temperature etc. could be used in future to identify patterns that could inform and assist in the provision of better facilities and advice to improve people's quality of life.
In education, they explained that data collected on online learning courses could highlight the areas where people are making mistakes and then be used to target those areas, leading to a customised learning experience with personalised educational material. "It's going to change how we think about what it means to be human," stated Coplin. "It's going to give us so much insight."
As the conversation drew to a close, Evans joked that data scientists were the new rock stars, and Konrad observed that: "Data scientists are part computer programmer, part statistician, part anthropologist and part storyteller. Really good data scientists comprise all of those things!"
So, what do you think? Are data centre engineers and data scientists the new rock stars?