SME Marketing: Where Do You Start?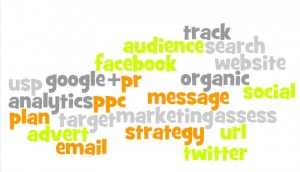 So, you have your million dollar idea, you have spent every waking moment painstakingly learning to code and now you're ready to unleash your start-up on the world. The UKFast marketing team talk us through what's next.
For any start-up or fast-growing business that wants to start telling its story, a marketing strategy provides an important roadmap, as well as clear guidelines on what needs to be done to ensure your business reaches that ever important tipping point.
So, what are the steps that need to be taken to create a marketing strategy?
Goals & Objectives
There is only one starting point and it has to be here. Define clear goals and objectives from the beginning, know what needs to be achieved and know how to measure that success. When starting out your business, goals and objectives can be broad and focus on things such as brand awareness to generating your first few leads.
Who Are We Targeting?
Who is going to buy your products or services? Identifying your target audience early on will allow your marketing to become more targeted and focused in the long run. Don't just think about customers when looking at target audience. Ask yourself how your business would benefit from relationships with suppliers, business partners and journalists, for example.
USPs
What separates you from your competitors? What makes you unique? Once you have defined these differences then they can often form a vital part of your overall marketing message.
Who Are Your Competitors?
It is always good practice to understand who you are up against and what makes those companies or products great. What separates them from you and where do you fit in the overall space? Be careful not to focus on competitors too much as those efforts can be better used improving and growing your business.
Effective Targeting
Ensure you are picking the most effective channels to deploy your message. Social media might be right for you; equally white papers or a great website could resonate with your core audience more effectively.
Track, Assess, Improve
Ensure you can affectively track your marketing efforts and media deployment. Assess the impact and if needed, make improvements. Small improvements can mean a significant difference to the bottom line.
Focus
Ensure your goals and marketing deployment are aligned to the budget and resources you have available. Don't spread yourself too thinly too early. If appropriate, focus on doing one thing really well rather than many things in a mediocre manner.
Be Flexible
As a lean start-up who could potentially be competing with the big boys, flexibility is one of your key assets. A marketing strategy doesn't take into account external factors and it is important to view any plan or strategy as being dynamic and constantly moving and not something that is set in stone.