PC Plod: The Decline of the Personal Computer
As analysts reveal a slump in the PC market, we take a look at how mobile phones, iPads and other portable devices are making an impact on business and personal IT and what that spells for the future.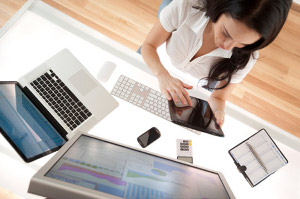 The number of consumer PCs is in rapid decline according to market researchers Gartner and IDC who reported that shipments for the first three months of the year fell at least 11%.
We've seen for some time now that consumers are shifting their attention from PCs to alternative devices such as smart phones and tablets, and many businesses are implementing Bring Your Own Devices (BYOD) strategies to allow employees to work remotely from phones or other portable technology. This move brings with it several questions for businesses regarding both their clients and their employees.
Adaptability is an essential asset for a company to have if they want to stay at the forefront of their industry. The trend towards using mobile devices to access the internet definitely puts versatility to the test. Why? Because web pages that are easily accessible for PCs might not be viewable or useable on smartphones or tablets. If you are an e-commerce business, this means that you are cutting out an increasingly large part of your target market.
During a Round Table discussion chaired by UKFast, Adam Swanson from Transalis echoed the trend saying: "The way that I shop has changed dramatically. I now do a lot more of that from my mobile phone."
Clearly, adapting to the ever-changing needs of web browsers, through responsive web design for example is a priority and businesses must ensure that their sites and applications are compatible with all of the different forms of technology we use as consumers on a regular basis.
The popularity of mobile devices has also triggered a BYOD trend in workplaces, with Gartner claiming that "two-thirds of the mobile workforce will own a smartphone by 2016 and 40% of the workforce will be mobile."
The advantages of BYOD are clear but the trend also brings with it a number of concerns. The first of which, as Stuart Coulson of IT security firm Secarma points out, involves the transferring of malware from mobile devices to the network of the entire business.
He said: "If an employee brings in a personal device and plugs it into a work computer, how do I know that it hasn't got malware on it; malware that's currently taking everything off our company intranet?"
To combat this, employers can set up a charging station in their workplace for staff members to charge device batteries. It is also possible to lock down USB ports in the workplace, to reduce the risk of employees taking information away with them; information that could potentially be passed on to a competitor.
The question of employees accessing and taking away sensitive data with their personal devices is incredibly important. During a Round Table event, David Cook of Pannone explained, "BYOD is efficient and it's a good thing to have in a business but it needs to be restricted so that the data that business is giving users is not inadvertently lost."
To this, Stuart advises removing access to corporate information that can be lifted off the machine and put onto a mobile device. If access to company data is not limited and employees with personal devices have taken some of that data away with them, the risk of a security breach within that company is automatically increased.
The rise of smartphones and other mobile devices has both benefits and disadvantages. Increased productivity and working remotely are major paybacks for a business but only if the matter of security is tackled first.