Blipvertology – Test Subject Two – Alice
As we launch the preview of our world-changing training technique, Blipvertology, we take a closer look at our three test subjects. These three prove that through hyper-intense streaming of training content, a human's IQ can be increased exponentially simply by sitting in front of a screen.
Next up, Alice.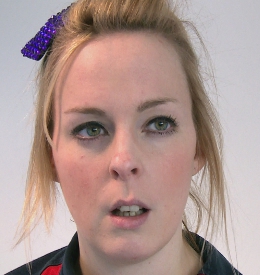 Name: Alice
Age: 25 years 8 months
Previous Hobbies: eating upside down to stay thin, watch the magic talking people in the box in the living room.
Post-Blipvertology Hobbies: novel-writing, breaking boundaries playing the violin, teaching mandarin and Japanese.
Alice arrived at the session a little early, having put her watch on upside-down and misreading the numbers. To fill the time until her assessment, Alice professed her tips for staying thin – eating upside-down.
Alice scored just 1 out of 25 on the assessment.
After her first session of Blipvertology Training, Alice began to show a talent for language – understanding basic commands unlike before. Within three sessions, Alice could speak fluent French, Latin and Mandarin.
Upon completing the Blipvertology Training, Alice excelled, answering every question correctly and in offering every answer in 12 languages.
Having previously spent her days wandering lost, Alice now spends her time teaching others her impressive language skills and is in the process of developing an international language to promote free communication across the globe.
Watch the transformation for yourself: