Blipvertology – Test Subject Three – Dan
As we launch the preview of our world-changing training technique, Blipvertology, we take a closer look at our three test subjects. These three prove that through hyper-intense streaming of training content, a human's IQ can be increased exponentially simply by sitting in front of a screen.
Finally, Dan.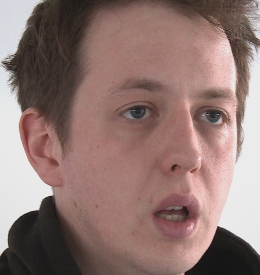 Name: Dan
Age: 30 years 4 months
Previous Hobbies: swinging from things, picking his nose, breadcrumbs.
Post-Blipvertology Hobbies: Latin, fitness, behavioural analysis.
Dan took some time to enter the assessment room. He was incredibly distracted by everything and was unsure how to
Dan scored 0 out of 25 on the assessment.
After his first session of Blipvertology Training, Dan demonstrated the training's effect on physical as well as mental fitness. Dan began to jog on the spot whilst completing training sessions.
Upon completing the Blipvertology Training, Dan scored top marks, also completing his answers in fluent Latin while running a mile in less than 3 minutes.
Having previously spent his days swinging from the underneath of staircases, Dan now spends his time developing technology that would allow office-based work to be completed whilst exercising, is developing a solution to global warming and is in the process of cloning the late Albert Einstein.
See the transformation for yourself: