Thank You.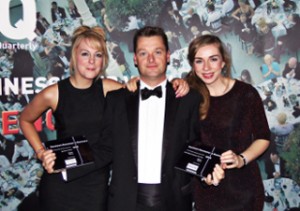 What a night! Last night, to our absolute delight, we scooped two awards at the City of Manchester Business Awards.
UKFast took the crown for the Digital Business of the Year and our CEO Lawrence was delighted to collect the final award of the night, the Sponsors' Award.
Recognising the amazing businesses that we have in the region, the City of Manchester Business awards (COMBAs) give the public the power to vote, so we have you to thank which makes the win even better!
Collecting the award, Lawrence described the outstanding business community in Manchester and how being surrounded by such quality of firms inspires us to keep innovating and evolving.
Which is exactly what we intend to do! Soon we'll have our revolutionary new cloud range launching (watch this space!) and we're continuing to bring more and more connectivity to Manchester as we build our MaNOC series of data centres.
It was an inspirational night to be surrounded by Manchester's business heavyweights and it makes us so proud to be contributing to making Manchester the tech hub of the north.
Congratulations to all of the winners!