Why Your Web Server Can Influence Your Relationship With Google
Your ability to rank highly in the search engines can be dependent on the server that your company has and the code behind your website. Al Mackin, CEO of specialist search marketing agency theEword, gives the low down on how your web server can impact on your rankings.

Search engines have succeeded, or failed, in their ability to provide the highest quality information to users and one of the reasons why Google has become so dominant is the quality of its search results. If you used search engines back in the late nineties then you'll probably remember wading through page after page of websites before you found one appropriate to your query. Now we're presented with a page of ten great results, along with news, images, video and shopping results that are related to our query. The search results pages are now a hugely rich and rewarding experience.
The search algorithm that Google created in 1997 has been amended and added to over the years taking in to account the changes in the way that websites are created, the ways that people have tried to "trick" Google in to giving them high rankings and new factors that Google has determined that are important.
Some of the recent additions to the algorithm have included:
Social metrics
Taking into account the amount of social coverage your websites gets and rewarding sites that are shared.
Unique content
Devaluing sites that don't contain high-quality unique text and rewarding those that create their own high-quality content.
Website speed
Rewarding businesses that invest in good infrastructure and those that optimise their sites in order to make them as fast as possible.
Why is website speed important to Google?
The search engines wants to return the highest quality websites and users have a better experience on a faster website. In Google's words: "Fast sites increase user satisfaction and improve the overall quality of the web".
Does website speed have a direct impact on search results?
Yes, Google said (In April 2010): "…we've decided to take site speed into account in our search rankings. We use a variety of sources to determine the speed of a site relative to other sites".
How does the web server impact on speed?
The more powerful your web server then the faster your site will be, and investing in a strong, dedicated server is the best solution. Making sure you have enough memory, a good fast hard disk drive and the best connectivity will result in a better, faster user experience.  And when considering these items take in to account what you'll need in the future, not just what you need now.
To give you an idea of what to aim for there was some research carried out on fourteen industry leading websites showed that Amazon was the fastest site with a complete load time of just 2.85 seconds.
Matt Cutts, officially a "Distinguished Engineer" at Google but also one of the key industry facing individuals at Google says:
"A faster web is great for everyone, but especially for users. Lots of websites have demonstrated that speeding up the user experience results in more usage. So speeding up your website isn't just something that can affect your search rankings–it's a fantastic idea for your users."
Will a websites speed impact on anything else?
There's a direct correlation between website speed and conversion rate (the ratio of website visitors to those who go on to buy from you or engage with your business). A report by e-consultancy said that 74% of users will abandon a website if a page takes five seconds or more to load and a study by Amazon.com stated that sales go down by 1% for ever additional 0.1s that it takes a page to load.
As an SEO agency we recommend that our clients invest in a fast, dedicated server, but as an agency that is also focused on our clients' websites converting visitors into sales or leads we'd recommend a fast server so that users get the absolute best experience.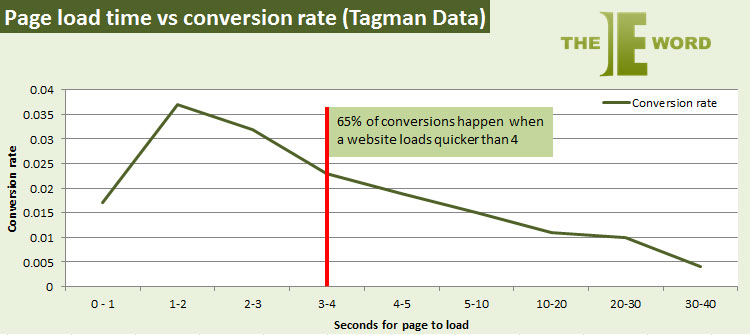 What else on a server can influence speed and rankings?
There are many small tweaks that you can make to the software on your server that can influence both your rankings and your conversion rate, such as enabling compression (a function which compresses files before they are sent from the server, where they are invisibly uncompressed in the users browser), minifying the files and code behind the site (removing extra characters, line breaks or comments in your website code that take up space) and compressing images properly. For a developer or server engineer these changes will take a handful of hours to complete but will give a website a permanent speed increase.