Is Responsive Web Design Really 'Responsive'?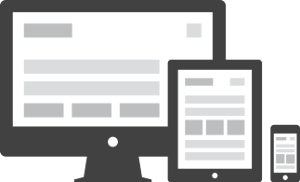 The rising popularity of mobile shopping has seen increased pressure on businesses to present their sites within a mobile-friendly format, resulting in many a web development team embracing the concept of responsive web design (RWD).
By optimising online content to accommodate the range of devices each with a different screen size, research has shown enhanced user engagement – resulting in enhanced profits. But is this type of design really as responsive as it claims to be?
Despite the belief that RWD should be a universal ideology, there are several factors to both sway and repel organisations from adopting the principle. Just as the eternal struggle between iOS and Android continues to divide the mobile population, the same can be said between accepting and rejecting the idea of responsive design – it simply depends which you consider to be the lesser of the 'two evils'.
RWD advocates support its "one-web" principle – demonstrated in the use of a single set of code upon which a responsive site is built. It works simply by creating code that responds to the device in use – so whether it's an Android tablet or an iPhone, the content will appear relative to the screen's dimensions.
In an attempt to cater for the plethora of mobile gadgets springing up across the globe, web designers are keen to employ the benefits of RWD. But in a world where businesses are doing their best to stand out from the crowd, a one-size-fits-all theory may not be the best solution for companies looking to deliver something unique and revolutionary for their audience.
A clear example of such a predicament can be seen in LinkedIn's iPad app. As a hugely popular and successful resource for networking professionals, it was essential for the site to reach out to as many potential users as possible. However, LinkedIn's head of mobile development, Kirin Prasad, found that RWD isn't a feasible option for complex services such as the LinkedIn iPad app. With 95 per cent of the application developed with HTML5, its sole mission was to create a number of different experiences on numerous devices depending on its usage and context. In an interactive case such as LinkedIn, Prasad noted that RWD restricted the site from coming up with the different designs necessary to providing functionality for each individual.
Which brings us back to the original debate – when is responsive design best 'responsive'? When users respond, apparently.
It appears that the only element to affect a user's web experience is quite simply the user's device. So if they were looking to access a publication on a mobile device, then RWD would be the most viable choice. In order to meet the user's needs to consume important sections of news whilst on the move, RWD would display the content in a more compact form while still allowing the user to read the relevant news items.
What's important to bear in mind is the significance of scalability. To appropriately match the needs of the user and their device, the display has to be scaled in such a way that both the objectives of fulfilling the requirements of the user and device are met. For examples such as magazines and newspapers, the main aim is to fit the news items accordingly – which can be easily achieved by reformatting.
But this is only a passive experience, with users viewing, clicking and occasionally zooming in to read the text. What about active instances, requiring user interaction?
For intrinsic functionality involving CSS and Javascript, the use of more resource-heavy technologies will automatically slow down the user experience. And as every successful business knows, slow page load speeds result in the most resounding failure of all – the loss of users.
Whilst the age-old argument of quality vs quantity [of content] definitely comes into play in this instance, it's important to assess this dispute based on your audience's perception – and not your own.
Before embarking on the use of RWD, take into account the following mediums: mobile and desktop. Users accessing a site on a smartphone or tablet do so because they are quite literally 'mobile' – and require only the simplest and quickest of shortcuts in order to get the best possible use from their device. For example, visitors looking at holiday sites on a mobile will want to short direct interactions – such as checking flight prices, hotels, and suitable dates.
However, users visiting a site on a desktop are more likely to seek out a far more detailed service such as to assess the quality of the hotel, look at a map to judge the distance between the airport and the accommodation etc; as their surroundings dictate a fixed and stable environment.
Each medium delivers its own set of end user goals, but it depends on whether your site's priority is content or context. Do your users want to become fully submerged in your app and take on a more active role, and conduct an in-depth search for certain answers? Or does your audience simply wish to passively absorb tidbits of content, already laid out on an online plate for them? If you're looking for a fully-engaging experience such as the former, then RWD isn't for you. The key element to remember is that RWD works best when your users are looking for something convenient and relevant; as that's when they're best 'responsive'.