Election 2012 – Not Just a Great Night for Obama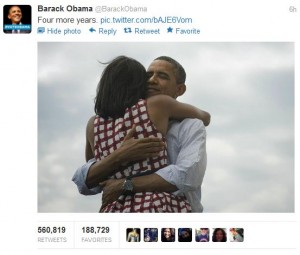 Last night the world witnessed American President Barack Obama win a second term in office, but it was a successful night for another American behemoth too…Twitter.
We have come to accept Twitter as the first point of call for breaking news and the election was no exception. Just as news companies began revealing the election results, the conversation surged and peaked at 327,452 tweets per minute as people took to the site to share the news and celebrate or otherwise.
The newly re-elected president's 'Four More Years' tweet smashed all previous records to become the most shared tweet ever, receiving retweets of over 560,800 (at the time of going to publishing) and marked as favourite more than 140,000 times. The previous retweet record was set by Justin Bieber and was shared more than 223,000 times.
Throughout the campaign, Obama has had a heavy presence on the social network, sharing key points from speeches, videos from celebrity endorsers as well as photographs of supporters carrying key messages throughout the campaign.
The campaign's approach highlights the growing importance of the network in modern politics and the huge difference between each candidate's crusade. Obama has more than 22.5 million followers and has been a prolific tweeter throughout the campaign, whereas Romney has just 1,774,345 followers and has sent significantly fewer updates than the Obama campaign.
Whether you question the role that social media played in the election, having a platform to speak directly to more than 22 million people must have helped along the line. The huge amount of effort that Team Obama put into their social activity has set quite the precedent for the use of the platform for future political campaigns.
The extent of the public's involvement in the election through the site was revealed earlier today when Twitter announced more than 31 million election-related tweets had been posted during election day, making it the most tweeted about event in US political history.