BYOD – Ruining the Party?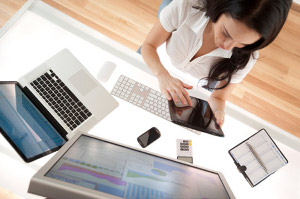 Businesses are being urged to consider the implications of Bring Your Own Device (BYOD) and protect their data and networks to avoid large-scale data loss.
Freedom to Work
Mobile technology is fantastic, and here at UKFast we couldn't live without our smartphones, tablets and laptops. These devices have revolutionised the way we work, freeing us up to work whenever, wherever and however we like. We can read our emails on the train and send our reports from the gym, not to mention keep up date with what people are saying about us on social networks. Sounds ideal doesn't it? So what's the problem?
The problem is the security threat posed by employees accessing company networks on their personal devices, placing the network and its data at risk. Who is controlling this access and what could happen to the data are the important questions that companies need to answer.
The experts speak…
We asked a panel of experts for their thoughts on the BYOD phenomenon, who revealed that small businesses are particularly at risk because they are less likely to have the knowledge and resources to cope. Stuart Coulson, Head of Sales at online security specialists Secarma, said: "Small start-ups don't have the resources to gain each ISO or PCI standard straight away and don't yet necessarily have the expertise to achieve either whereas larger firms already have this foundation of accreditations and compliance, which makes implementing a BYOD strategy so much simpler and more effective."
Elliot Hughes, from Cisco, expressed his fears that many businesses did not have robust processes in place to protect their data, and many were unaware it was even at risk: "A lot of people that we speak to don't actually know what is going on in their network. The network has grown organically and they don't have the budget or expertise to manage it properly. They could not tell you who has plugged into the network or when."
Despite this lack of awareness, companies have no choice but to join the party, said Nick Francis of Barclays: "There's no choice as to whether we embrace BYOD or not. People are going to do it anyway. It's not an option to ignore because the damage that leaked data can do to a brand's reputation if client data is lost is massive.
"BYOD has sneaked in through the back door almost because people understand that they should lock their doors and protect against viruses but they are not really sure about how to deal with securing their network for BYOD but it is necessary to broach this and have a policy in place."
But it's not all bad news. Technical Director at UKFast, Neil Lathwood said: "BYOD can prove valuable, allowing SMEs to be more responsive, flexible and up to date. However we need to ensure our partners and clients are fully aware of the risks involved and informed as to how these can be mitigated."
Prevent a BYOD hangover with these simple tips from our experts:
Recognise that BYOD is the latest off-shoot of general network security. Companies should go back to basics and ensure they have robust security provisions, and work from there.
Consider why BYOD is necessary in your organisation. Who needs access and what for? Identify these crucial elements and build a policy from there.
Take these simple steps:
Remove access to corporate information which can be copied from network computers onto portable devices
Silo the data to create data pools of specific data sets
Limit access to these data pools