#BacktoBasics – 4G, What Does it Mean for My Business?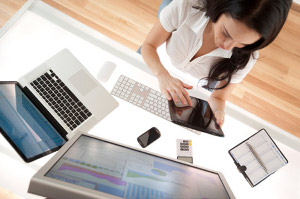 With the rollout of EverythingEverywhere's 4G this week smartphone users will have access to mobile internet at speeds that rival some broadband connections.
Add this boosted connectivity to ever-growing numbers of shoppers buying through mobile devices and m-commerce is only going to skyrocket even further.
So what does this mean for your business and its website?
We've been saying for a long time that mobile-optimised sites are becoming vital to online business success and as 4G is capable of exceeding download speeds of 100Mbps as well as upload rates of 50Mbps, the connectivity is now there for an amazing user-experience.
We have regularly discussed methods of developing these in the best way through HTML5 and responsive web design, for example, over the past few months and it seems now these sites are more important than ever to deliver the best mobile experience for shoppers.
Although the superfast connection is only available on limited networks and devices for the time being, it's set for national rollout in very soon with the aim of access for the whole nation in the next few year and the impact it will have is undeniable. Since the introduction of 3G, smartphone shopping has boomed with visits to e-commerce sites from mobile devices during Q2 2011 accounting for 7 per cent of overall traffic, up from an average of 1.4 per cent in Q1 2010 and it's even higher now.
And while statistics for site visits from mobile devices are impressive, m-commerce figures are even more so. Over the next year or so, more than 50 percent of all e-commerce shopping will happen on mobile devices. And with 4G arriving just before the busiest time of the shopping year – Christmas – this could not have come at a better time for businesses.
Not only is the introduction of 4G likely to impact the need for better a better mobile presence, it is also likely to hugely affect the way that we use mobile devices for work.
"[4G] has the potential to revolutionise the way British businesses work," says Martin Stiven, vice president of EE's B2B division.
He added: "It will allow firms to fully exploit cloud-based apps through mobile, such as Salesforce.com, SharePoint, video-conferencing and other collaboration and communication tools. Employees will be able to access their back- office systems and backup laptop data while on the move. This will reduce the need to return to the office and lower the risk of losing valuable data."
So once again we are back to the BYOD conundrum. How do you protect your business when employees are able to access your network from their own, potentially unprotected devices?
At a recent roundtable a panel of industry experts including representatives from Cisco and Barclays offered their top tips on protecting your business from the threat associated with BYOD:
Recognise that BYOD is the latest off-shoot of general network security. Companies should go back to basics and ensure they have robust security provisions, and work from there.
Consider why BYOD is necessary in your organisation. Who needs access and what for? Identify these crucial elements and build a policy from there.
Practically speaking, businesses can:
Remove access to corporate information which can be copied from network computers onto portable devices
Silo the data to create data pools of specific data sets
Limit access to these data pools
Whether it is through the need for an optimised site or through BYOD, the improved connectivity of 4G is set to change the way we sell, advertise and manage our day-to-day business. And with the target of delivering near nationwide 4G coverage in the UK by 2017, we might need to rethink the concept of this 'five year deadline'.