National Cyber Security Awareness Month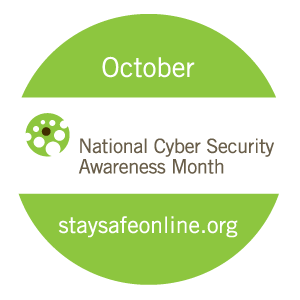 As the year quickly blurs into a panicked countdown to our Christmas shopping, it's important to remember another important event to be noted down in our diaries – that of course is October's significance in the calendar as National Cyber Security Awareness Month.
Whilst several organisations and users may certainly be aware of the risk of cyber security, how many actually recognise the threat to their online safety?
According to the 2012 Norton Cybercrime Report, cybercrime costs the UK a staggering £1.8bn a year – with over 12 million people in the UK alone affected by online crime. Due to the increasing demand of social media and mobile usage, this figure is set to increase; however, the report strongly advises that with email being viewed as a popular gateway for cybercriminals, simply enforcing strong passwords is key in helping to deter these would-be hackers.
Whilst it is ultimately our individual responsibility to enforce these updates, we all need to work together to win the war against cybercrime. That's why UKFast is participating in the ninth annual National Cyber Security Awareness Month, and will be on hand throughout the month to impart some wise words of wisdom on how you can stay safe online via our dedicated blog posts.
In conjunction with this event, we're also pleased to announce the launch of our security division, Secarma. Specialising in IT security and data recovery services, our team of experts has over 20 years of experience within the crisis management field – helping preserve the interests of consumers and businesses alike from potential cyber threats.
As the UK's largest web hosting provider, it's our job to keep you in the loop – so whether you're looking to increase your personal safety or have professional interests you wish to keep secure, make sure you keep an eye on our site for helpful tips against cybercrime.