#BacktoBasics – What is DNS?
DNS has hit the headlines lately with news of a massive attack on domain name registrar GoDaddy. But what is it, what does it do and why is it so important?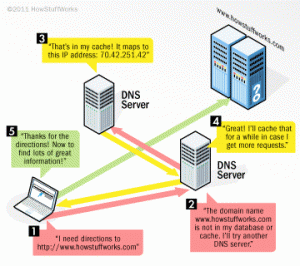 DNS is a protocol within the set of standards for how computers exchange information. DNS servers basically act as a phone book for the internet. When you type in the web address that you'd like to visit (for example https://www.ukfast.co.uk) you send a request to the DNS server which then matches the address to the 9 digit internet protocol address for example 81.201.142.202. (NB. There are 9 digits in an IP4 address, but now with IP6 addresses are longer).
The DNS server then sends this address back to you so that you can connect to the website that you want to visit. DNS plays a major role in email too.
If DNS were to fail, you would not be able to find any websites hosted on a different network and emails would be undeliverable.
Earlier this week, the DNS infrastructure of world-leading domain registrar GoDaddy was on the receiving end of a DoS attack, causing outages for thousands of customers across the world.
Hactivist collective Anonymous has allegedly claimed responsibility for the attack however, GoDaddy blamed the outage on a series of internal failings.
UKFast's SafeDNS®
UKFast's SafeDNS system allows you to host your different web domain names and direct them to the IP address of your choice.
With an easy-to-use control panel SafeDNS delivers the freedom to manage your domains so you're in full control of what you host and where.
The SafeDNS solution was designed and built in-house. We use it ourselves so we can guarantee its usefulness for DNS management.