Are We on the Brink of a Post-PC Era?
The desktop PC has powered our offices and helped our businesses grow for more than 20 years, but is it finally time to put the desktop computer to bed?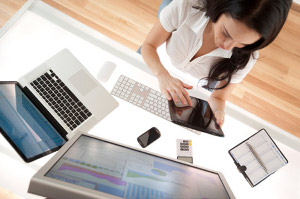 As cloud computing skyrockets and mobile devices become increasingly sophisticated and affordable, mobile working is becoming a viable, cost-effective alternative to a desk and PC per person.
Tech firm Cisco recently revealed that more than 95% of businesses already support 'bring your own device' computing (BYOD – where employees use their own mobile devices to access the network) whether that's through cloud and virtual desktops or simply accessing email through a smartphone.
And with an estimated 32% of employees globally now relying on more than one mobile device during their typical working day (according to the latest research from mobithinking) it's clear that the PC is no longer the cornerstone of modern offices.
Although BYOD has become a tech buzzword on the scale of cloud computing, it is a strategy that could soon dictate how we work on a day-to-day basis. Although there are clear concerns with security (how do you protect your network when you're letting employees access it from their own devices?), with the right strategy in place it can prove to be a cost-effective alternative to investing in a PC per person.
What does this mean for businesses?
It's clear that mobile devices, whether through BYOD or through providing devices for your employees, the office of the future isn't limited to desks and workspaces.
The big buzzword technologies – BYOD, cloud, HTML5 – are all coming together to provide a viable office alternative for the future. HTML5 and responsive web design enable the user-experience to remain at the level it is expected to no matter the device. Cloud provides the access to information that you need to work away from the office (or within it if you prefer a different device) and devices like the iPad and Microsoft's Surface tablet bring the computing power, instant web access and flexibility.
As the boundaries between enterprise and consumer technologies become increasingly blurred, it seems that now is the time to think outside of the traditional PC-based office box.
Do you think that the future lies away from PCs?