Microsoft Reveals 'Most Ambitious Office Yet'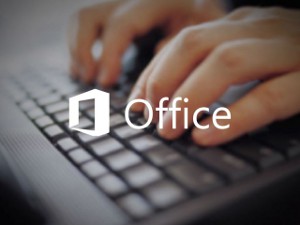 The software giant has announced the new features of Office 2013 with a focus on cloud and touch-compatibility. We take a look at the top features of the new release.
Immediately, the most obvious feature is the added ability to navigate Word, Powerpoint, Excel et al with not only a mouse and keyboard but a touch-screen and stylus too. Responding to touch in the way that has become second nature to the majority of modern tech users, Office documents and presentations can now be swiped and pinched as you wish.
The added ability to revert back to traditional mouse and keyboard layout, without the added touch capabilities, will also keep the PC traditionalists happy.
Less obvious initially are the release's new cloud capabilities. Microsoft CEO, Steve Ballmer, explained that the new Office edition was designed from "the ground up" with cloud computing in mind.
This has translated into the integration of SkyDrive. Documents produced in the latest Office will not only be stored locally on the hard drive but also to Microsoft's SkyDrive cloud storage service. This extra function saves the user from losing their data in the event of a hardware crash and enables access to their documents from any web-connected device.
The new features were revealed as a Consumer Preview was released earlier in the week. You can sign up to join the preview here.
The overall design is significantly different and more streamlined in comparison to the traditional Office view that many of us are accustomed to. However, many of the features, although they look different, remain the same. The ribbon menus for example are still present but disappear once you begin to type, allowing you to focus on the writing until you need something, when you can simply tap/click to bring the ribbon back.
Powerpoint's key new feature is Presenter View. This allows the user to activate a second screen to show the audience on the current slide. The original screen then displays a dashboard for the user to control the presentation, including views of the current and next slides, further controls and slide notes.
Excel, although left in the shadows a little at the San Francisco Microsoft Office 2013 launch event, also has a range of key new features. One of these, Quick Analysis, speeds up the translation of raw data into charts and averages. Simply by selecting the data range and clicking/tapping the Quick Analysis button, users are given a whole host of options to analyse the data from creating charts and common calculations to Sparklines and pivot tables.
Although there is no current release date, users can register their interest and trial the range via the Microsoft website.