HTML5 Key to BYOD?
As the popularity of 'bring your own device' working skyrockets, businesses are concerned by the high costs associated with the set up.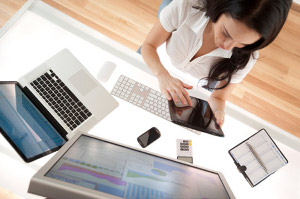 Whether you realise it or not, more and more employees are switching on to the idea of Bring Your Own Device (BYOD) working and businesses are struggling to keep up.
Take a look around the office. How many smartphones and tablet devices can you see? BYOD is already happening, albeit just in the form of employees asking for email access on their Blackberry. According to research by Cisco 95% of businesses already allow employee-owned devices in one way or another.
With this comes the expectation from employees and customers to be able to do everything that they can on their desktop PCs on a mobile device, and so follows the business challenges associated with it.
Catering for the same user experience across multiple devices and operating systems is expensive, as the vice president of market intelligence firm IDC, Tim Dillon, explained at the Asia Pacific Enterprise Mobility Conference. He warned that "for every change you need to make in Android, it costs $50,000 in developer time". That is just for Android, never mind iOS, Windows Phone or Blackberry.
As HTML5 (and the associated tech that comes under the HTML5 umbrella: JavaScript, CSS3, SVG) evolves, the mark-up is fast becoming a solution to this problem. BYOD will cause a shift in the way that apps need to be developed and HTML5 will allow a single app to be supported across multiple devices and platforms.
HTML has long been the standard for developing web content and it is now set to be the standard for building apps too, thanks to its cross-platform compatibility.
As HTML5 is still in its infancy (its official status is 'working draft' but that doesn't stop web devs who have been working with it for some time) there are still several challenges that stand in the way of HTML5 becoming the complete solution to BYOD and mobile app development.
Among the many issues for mobile developers to overcome are the limited access to native device APIs, uneven support from different devices and browser memory management.
A potential remedy to overcome these issues would be to develop a hybrid app. This approach – using HTML5 and JavaScript with a 'code wrapper' that gives it native capabilities – is how Facebook develops its range of mobile apps.
As HTML5 develops and evolves, the hybrid app can then gradually transition rather than requiring a complete overhaul of the mobile infrastructure.
Another option is, of course, Responsive Web Design (something that we'll delve into on the UKFast blog at a later date). Responsive Web Design (RWD) automatically adjusts to give the site visitor the best user experience possible. The design adjusts to the screen's resolution, platform and orientation using a combination of techniques including Flexible Grids, Flexible Images and CSS media queries.
Although the exact technology may not be exactly there yet, there are solutions that avoid the high costs and development time of building individual native apps for each device and platform.
I'd love to hear your thoughts on this: is HTML5 one of the solutions to BYOD problems? Or should we forget about BYOD completely and look to thin-client computing?