Geeks Who Changed the Internet: Tim Berners-Lee
Now that Geek Pride Day is finally here, we celebrate the ultimate boffin who created the web experience that we know today.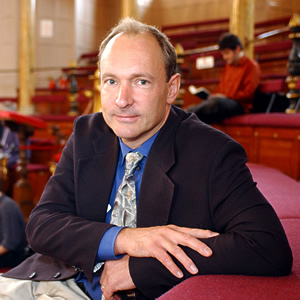 In 1989, Oxford University graduate and computer scientist, Tim Berners-Lee created an internet-based hyper media initiative for global information sharing while at the CERN the European Particle Physics Laboratory – basically he built the World Wide Web.
With the 'web' in place, Berners-Lee proceeded to set up the first web server, info.cern.ch and in 1991 he made his World Wide Web browser and web server software available on the internet. And so began the internet experience that we now know.
Unlike many other geeks in the technology world, Berners-Lee's contribution to the evolution of the internet never gained him huge personal wealth as, rather than use his genius for personal gain, he remained committed to making the web universally accessible, and free.
In his fight for web freedom, Berners-Lee formed the World Wide Web Consortium in 1994, which helps to establish and promote standards and protocols that work for both web designers and web browsers.
Berners-Lee continually strives to protect web freedom and net-neutrality today and has worked alongside the British government to develop data.gov.uk which aims to open up the non-personal raw data that drives government policies for free public use.
He also set up the World Wide Web Foundation to "advance the Web to empower humanity by launching transformative programs that build local capacity to leverage the Web as a medium for positive change."
For his relentless commitment to continually evolving the web and to ensure it remains a free, universal tool, we crown Tim Berners-Lee as our Top Geek Who Changed the Internet.
Would you have crowned someone else? Who do you think has changed the internet the most?